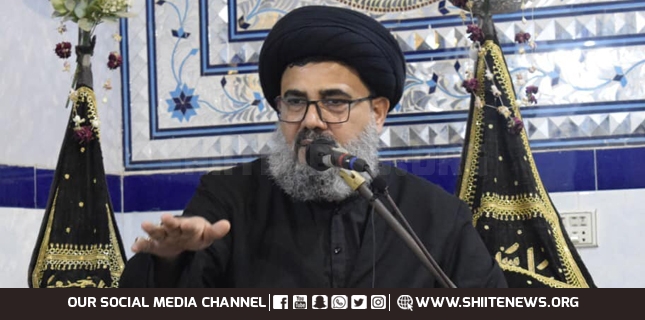 Shiite News: If there was no mourning for the Martyrdom of Imam Hussain (A.S), the religion would have been erased, and the monster of Yazidism would have swallowed Islam.
This was said by Allama Ahmad Iqbal Rizvi, Central Vice Chairman of Majlis Wahdatul Muslimeen (MWM) Pakistan, while addressing the fourth majlis of Ashra-e-Moharram at Imamia Imambargah Jafar-e-Tiyar.
He said that this is the memory of the Martyrs of Karbala, who has protected human values and religion, the grief of the Highness [Imam Hussain A.S] is the grief of the Prophet, peace and blessings of God be upon him.
There are authentic references of blood pouring from the earth and the sky after the incident of Karbala in Shia-Sunni reliable books.
He said that mourning days should be observed in such a way that the Prophet (peace be upon him) may please with us. Hussain's grief is the grief that makes a person strong and powerful.
He further said that all the lovers of Hussain (a.s) should come out of their homes and challenge the Yazidis forces and give them the message that the grief of Hussain (a.s.) is above everything, no power in the world can take away the grief of the oppressed of Karbala (a.s.) from us.
The path we have chosen is the path of Prophets (AS). Let no obstacle be put in our mourning, it is the responsibility of the state institutions to provide all the necessary facilities including foolproof security, those who register cases against Ishq-e-Rasool (SAW) should be careful.