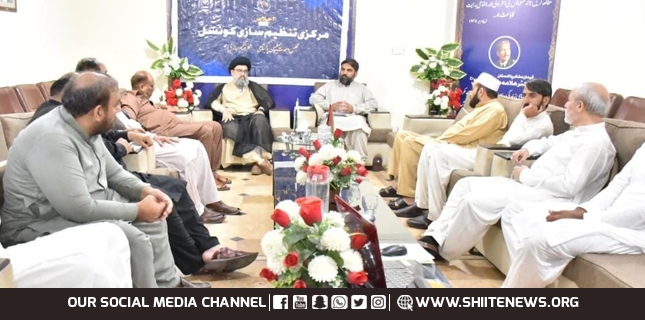 Shiite News: The first meeting of the "Markazi Tanzeemsazi Council" of Majlis Wahdatul Muslim (MWM) Pakistan was held in the central office under the chairmanship of the Central Secretary Tanzeemsazi Allama Maqsood Ali Domki.
Central Vice Chairman, Allama Syed Ahmed Iqbal Rizvi, Central General Secretary Syed Nasir Abbas Shirazi, Secretary Siyasiat, Syed Asad Naqvi specially participated in the meeting. Members of the Tanzeemsazi Council and provincial officials participated in the meeting.
Addressing the meeting, Allama Syed Ahmad Iqbal Rizvi said that the department of "Tanzeemsazi" is very important in MWM, which has a huge responsibility for organizational discipline as well as organizational training of workers. A religious setup should prioritize the education and training of its workers.
Addressing the meeting, Allama Maqsood Ali Domki said that the organization department (Shoba-e-Tanzeemsazi) considers the implementation of its annual program as well as the functioning of the units as the first priority.
Training of workers in the environment of prayers and supplications is among the priorities of teaching the Qur'an in congregational prayer among the workers at the unit level through the mosque-oriented units.
He said that after Muharram, there will be visits to Gilgit-Baltistan province, Khyber Pakhtunkhwa province and Balochistan province for increasing the membership of organisation.
Malik Iqrar Hussain, provincial in charge for Punjab and others discussed the organizational activities. On this occasion Muhammad Ali Azizi highlighted the function of the unit and the role of the unit in social and welfare services.