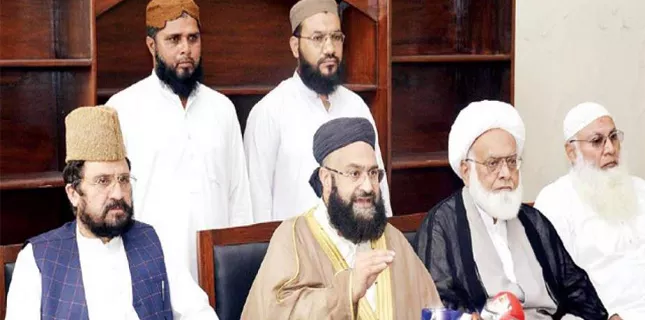 Shiite News: Muttahida Ulema Board (MUB) Punjab has issued a code of conduct for maintaining peace and order during Muharram.
Chairman Hafiz Tahir Ashrafi said that all political parties need to unite to end political instability in the country.
While holding a press conference along with members Allama Dr. Muhammad Hussain Akbar, Dr. Raghib Hussain Naimi, Allama Hasan Hamdani and Mufti Muhammad Ramzan Sialvi, and others at Lahore, he said that separate courts should be set up to punish the culprits involved in subverting the faith and belief of the young generation.
He said that for ensuring peace and order control rooms will be established in Lahore and Islamabad. Hafiz Tahir Ashrafi said that all are requested to refrain from the abusive language so that an atmosphere of peace can be established.
He said that it is not the authority of any party or group to declare someone as 'Kafir' (infidel), but the authority of the state.
All the religions of Pakistan have the right to worship according to their beliefs. The state can punish those who violate the constitution of Pakistan.