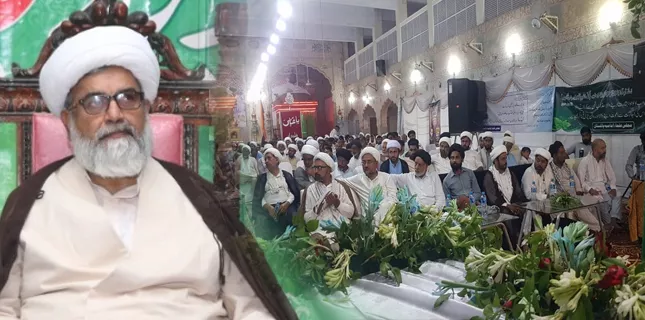 Under the auspices of Majlis Wahdat Muslimeen Pakistan, a conference titled "Azadari Conference" was held at National Center Shah Jamal, Lahore, a large number of the elders of the nation participated.
"Azadari is our constitutional, legal and religious right, which we will not give up in any way, since the incident of Karbala, efforts being held to stop the Azadari, but this is the river that continues to flow and will continue to flow, no one could stop its course in the past and no one will be able to stop its course in the future, many Yazidis have come and gone" said Allama Raja Nasir.
While addressing Azadari Conference MWM head said that the law of Pakistan gives us complete religious freedom, a few Takfiris have become isolated, and they keep making sinister attempts to obstruct the way of mourning, but we want to make it clear to the rulers, including these Yazidi forces, that there can be no compromise on mourning.
He said that some of the enemies of Imam Hussain A.S register cases for holding the processions of Azadari. In this regard, we have made it clear to the government that all such baseless cases registered in the past should be dismissed and no new cases should be registered. He said that we make it clear to the IG Police that the police should be restrained from such actions.
He said that Muharram is the month of commemorating the grandson of the Prophet (PBUH), but unfortunately, there is a threat to peace and order in this month.