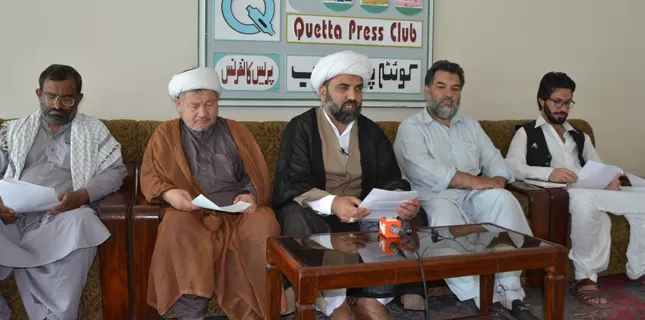 Leaders of Majlis Wahdatul Muslimeen Friday held a joint press conference titled "Paigham-e-Karbala aur Ittehad banul Muslimeen" in Quetta Press Club.
Addressing the press conference, Allama Maqsood Ali Domki, the central leader of MWM Pakistan and central chairman of the Azadari Council, said that the month of Muharram is the month of victory of Islam, and teaches us unity among Muslims.
He said that in the month of Muharram some miscreants, outlawed and Takfiri parties try to spread chaos. There is a dire need that the administration keeps a close eye on the Takfiri parties, especially on the occasion of Muharram.
The agenda of such people is to spread hatred and incite hatred among Muslims. He said that the administration and public should cooperate in Azadari programs instead of boycott.
He said that strict security arrangements should be made during the days of mourning. A Muharram cell should be established at the government level during the month of Muharram.
Allama Maqsood Ali Domki appealed to the people to observe the Independence Day on August 14 with respect to the month of Muharram.
On this occasion, MWM Balochistan leaders Allama Wilayat Hussain Jafari, Maulana Zulfiqar Ali Saeedi, Sohail Akbar Shirazi, Zakir Hussain Durrani and MWM Quetta's Ayaz Ali Hazara were also present with him.