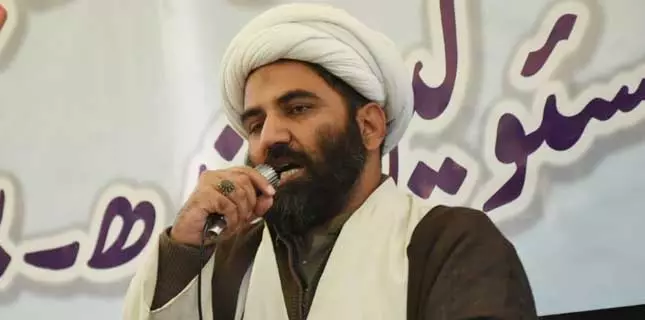 Shiite News: Azadari-e-Imam Hussain A.S a great act of worship, required no permission government said Central Secretary Azadari Cell, MWM Pakistan, Allama Maqsood Ali Domki on Thursday.
An important meeting of the Central Azadari Council of MWM Pakistan was held under the chairmanship of Allama Maqsood Ali Domki.
In the online meeting, Chairman Mourning Council Punjab Syed Hassan Kazmi, Chairman Khyber Pakhtunkhwa Syed Nayyar Abbas Jafari, Chairman Balochistan Agha Sohail Akbar Shirazi, Chairman Azad Kashmir Syed Israr Abbas Naqvi and Chairman South Punjab Syed Dilawar Zaidi and Syed Najeeb Naqvi addressed the gathering.
Participants presented their concerning reports on the functioning of the Mourning Council in the upcoming holy month of Muharram-ul-Haram and discussed the issues of mourning days.
Talking on the occasion, Allama Maqsood Ali Domki said that Muharram is the month of the grandson of the Holy Prophet Imam Hussain (AS) and his faithful companions who managed the survival of Islam through their eternal sacrifice.
Karbala is a message of salvation and prosperity for all mankind. He said that mourning of Imam Hussain (as) is our basic constitutional right, restrictions on Azadari are not acceptable.
Mourning processions (Jaloos-e-Aza) and mourning ceremonies (Majalis-e-Aza) are great acts of worship that do not require a permit.
He said that mourning conferences would be organized at the provincial and district level under the auspices of Majlis Wahdatul Muslimeen in which scholars, Zakirs, founders of Majalis (Baniyan-e-Majalis), permit holders and mourners (azadaran) would be present.
He urged the central and provincial governments to appoint a focal person on the issues of mourning days and ensure government cooperation in conducting mourning.