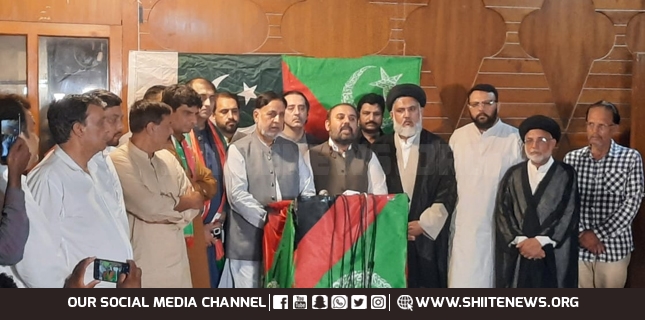 Shiite News: Majlis Wahdatul Muslimeen will vote for Pakistan Tehreek-e-Insaf (PTI) candidates in the by-elections and try hard to make PTI successful.
This was said by Central Secretary Information Majlis-e-Wahdat Muslimeen Pakistan Syed Asad Abbas Naqvi at MWM Punjab Secretariat at Lahore.
"MWM will vote for PTI candidates in the by-elections, the top leadership of the MWM has decided that as an ally of the PTI, the MWM will make the PTI candidates successful by voting across the province" said MWM leader.
While addressing a press conference alongwith Senior Vice President MWM Punjab Allama Syed Hassan Raza Hamdani and other leaders of Pakistan Tehreek-e-Insaf leaders Mian Mahmood Rashid and Sheikh Imtiaz, he said that the root of all the problems of Pakistan is American slavery, if there is terrorism in Pakistan, there is inflation, there is unemployment, or other problems, the root of all these is America. On this basis, we want Pakistan to be freed from American slavery, which is why we have signed an agreement with PTI chief Imran Khan in this regard.
Time and again the incumbent Prime Minister says that he has to make difficult decisions, why he is making difficult decisions, who told him, of course the answer is that he has been told by the United States, he has been told by the IMF and it is obvious that they are imposed on our necks at their behest.
Taxes are being levied on public and by imposing super taxes they have brought super inflation in the country.
Pakistan Tehreek-e-Insaf (PTI) leader Mian Mahmood Al-Rasheed said that he was grateful to Majlis-e-Wahdat-e-Muslimeen for announcing support for the by-elections.