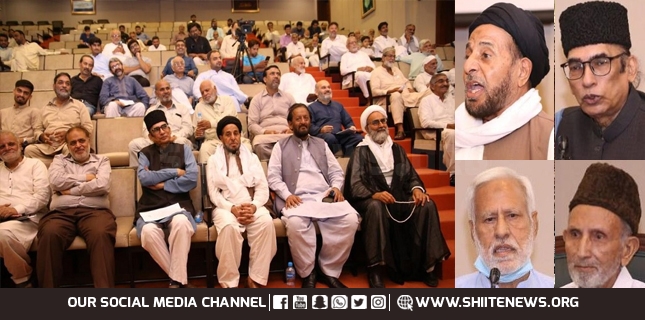 Shiite News: A seminar on the personality of Ayatollah Al-Hajj Syed Murtaza Hussain Sadr-ul-Fazl was organized by Bazm-e-Fazil at Lahore.
Scholars from different schools of thought, students, including Pir Noubahar Shah, Syed Ali Raza Naqvi, officials of Anjuman-e-Wazifa-e-Sadaat, Senior journalists Faizan Naqvi, Ali Javed Naqvi, Allama Hassan Raza Hamdani, Allama Syed Muhammad Zafar Naqvi, Nawab Munawar Alam, A delegation representing Allama Syed Sajid Ali Naqvi, elders of the Wifaq ul Maddaris-e-Shia and a delegation from Jamia Al-Muntazir and a large number of Maulana's devotees attended and offered their homage.
Ayatollah Haj Syed Hussain Murtaza Naqvi (Qom) in his special address highlighted the scholarly literary and religious services of Fazil-e-Lucknow.
Allama Kazim Raza delivered the message of Allama Sajid Naqvi and described the scholarly and religious services of deceased.
Dr. Agha Salman Baqir and renowned journalist Hussain Naqi, Prof. Jamil Ahmad Rizvi highlighted the literary achievements.
Engineer Ali Raza Naqvi, a founding member of the Imamia Students Organization of Pakistan, and Hassan Raza Naqvi, a representative of the Imamia Organization of Pakistan, expressed their views on social services.
Allama Bakhtiar Al Hassan Sabzwari, Allama Munawar Abbas Alvi, Allama Zafar Ali, Allama Ali Naqi Preacher, Nisar Tirmidhi, Anjum Raza and Dr Mohsin Ali paid homage while Syed Ahmad Murtaza offered words of thanks at the end.