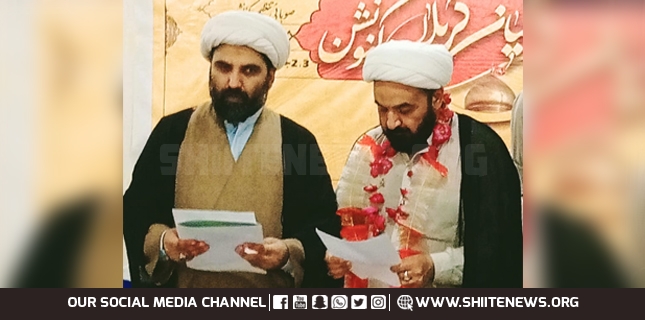 Shia News: In the intra-party election of Majlis Wahdatul Muslimeen Khyber Pakhtunkhwa, Allama Jahanzeb Ali Jafari has been elected as the provincial President of MWM for the next three years.
According to details, a two-day convention of Wahdatul Muslimeen Pakistan, Khyber Pakhtunkhwa chapter was held at Jamia Shaheed Arif Hussaini in Peshawar, in which former provincial cabinet, organizational representatives from all districts, Chairman MWM Pakistan, Allama Raja Nasir Abbas Jaffari and Allama Maqsood Domki, Central Secretary for Tanzeem Sazi participated.
On the first day of the convention, Shab-e-Shuhada was organized, to which Allama Raja Nasir Abbas Jafari delivered a special address. On the occasion of intra-party elections, Allama Waheed Abbas Kazmi announced his resignation along with his cabinet after delivering a speech in accordance with the constitutional requirements.
After the intra-party elections, Allama Maqsood Domki, Central Secretary Tazeem Sazi, presented three names to the Provincial Council, including Allama Jahanzeb Ali Jafari, Allama Syed Waheed Abbas Kazmi and Allama Irshad Ali. On which regular voting took place, as a result of which Allama Jahanzeb Ali Jafari was elected as the new President of MWM Khyber Pakhtunkhwa for the next three years. On this occasion, Allama Maqsood Domki took oath of office from the newly elected Provincial President.
Speaking on the occasion, the newly elected President of MWM-KP, Allama Jahanzeb Ali Jafari said, "I thank all the organizational friends who trusted me, it is an honor for me to work for this organization".