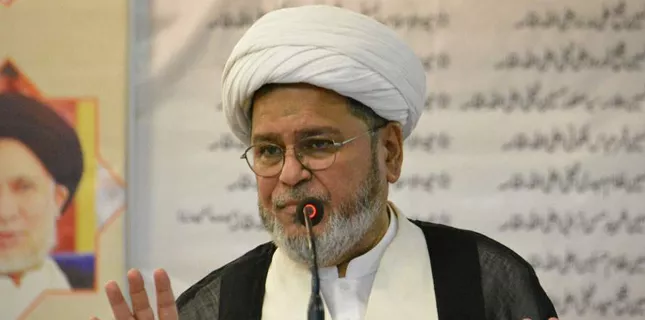 Shiite News: Allama Dr Shabbir Hassan Maisami, Central Secretary General of Shia Ulema Council of Pakistan, has said that "Azadari-e-Imam Hussain A.S (mourning) is an issue of religious and civil liberties, on which no restriction can be accepted.
"FIRs on mourners should be stopped, otherwise there will be a country wiede protest against it. The law and order situation in the country has been disturbed once again before Muharram and the tension in Parachinar after the Peshawar tragedy is a proof of this", SUC leader maintained.
He said the attempts have been made to sabotage the peaceful atmosphere of the country by first changing the curriculum and then the situation is being aggravated by terrorist incidents, which are question marks on the performance of law enforcement agencies.
Suicide attack at Jama Masjid Kocha Risaldar in Peshawar, the non-acceptance of the demands of the heirs of the martyrs so far in the investigation is a manifestation of the cruelty and indifference of the governments, which deserves condemnation.
He said that the FIRs on the mourners of Syed Al-Shuhada (AS) are a blatant violation of the basic civil liberties laws. Withdraw the FIRs and refrain from taking any action in the beginning of Muharram, which would cause unrest among the people.
Allama Syed Sajid Ali Naqvi is one of the founders of Ittehad-e-Ummah, who has always urged the Jafaria nation to remain peaceful. Allama Shabbir Mehsumi directed the workers to be ready for any call of Allama Sajid Naqvi and appealed to them to continue their struggle for their rights with unity and consensus.