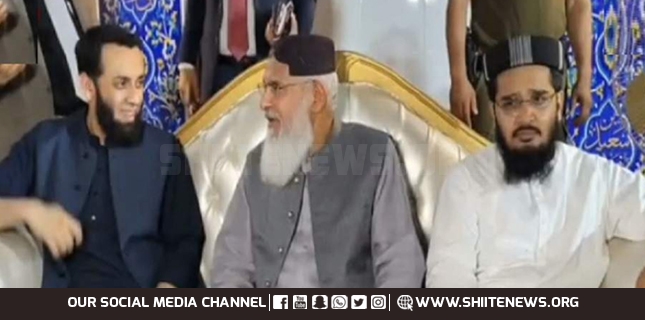 Shiite News: Pakistan Muslim League Nawaz (PML-N) once again bowed down to notorious banned elements for political gains and power perpetuation.
Punjab Home Minister Ataullah Tarar visited Jhang and met Ahmed Ludhianvi, head of the banned Sipah-e-Sahaba, and Muawiyah Azam, son Azam Tariq, a notorious denigrator of Imam Mehdi (AJTF).
In the meeting, Ataullah Tarar requested to vote for Hamza Shahbaz for the post of Chief Minister again in the forthcoming election.
On this occasion, Ataullah Tarar said that he would fulfill all the promises made with Muawiyah Azam. Muawiyah Azam said that our meeting has been very useful and he will give a surprise soon.
Ahmed Ludhianvi said that it has also been decided which candidate to support in the by-elections. He said that he would extend full cooperation to the PML-N government.
Earlier, Ataullah Tarar was given a warm welcome on his arrival at the Ali Islamic Center. Workers laid flowers at Ataullah Tarar while Muawiyah Azam received the Provincial Interior Minister.
It should be noted that the ruling political parties in Pakistan, including the PML-N, the PPP and the PTI, have repeatedly bargained with the banned terrorist group Sipah-e-Sahaba in pursuit of their political interests, and taken them on board and these banned outfits are enjoying politics instead of sending them behind the bar.