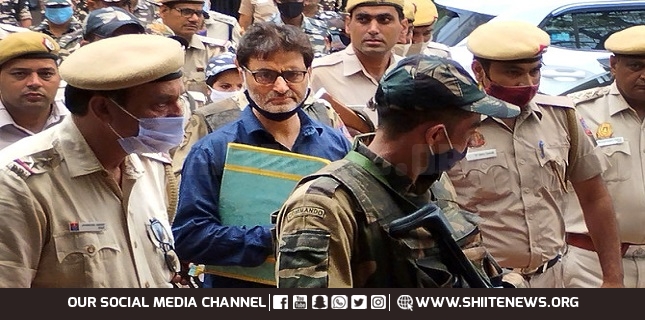 A New Delhi court on Wednesday awarded life imprisonment to Kashmiri Hurriyat leader Yasin Malik, who had earlier pleaded guilty to all the charges, in a "terror" funding case, Hindustan Times reported.
According to the report, India's NIA had sought the death penalty before the court for Malik.
The report, quoting Indian news agency PTI sources, said that the Kashmiri leader had submitted that he would not "beg" for mercy, and that court could decide at its discretion.
He maintained that if Indian Intelligence can prove that he had been involved in any terrorist activity or violence in 28 years, then he would retire from politics, and will also accept the hanging.
The judge, however, said that since he has already been convicted, there was no point in arguing on the facts of the case and that he was already given the opportunity, the report stated.
Prime Minister Shehbaz Sharif termed the decision "a black day for Indian democracy and its justice system.
"India can imprison Yasin Malik physically but it can never imprison idea of freedom he symbolises. Life imprisonment for valiant freedom fighter will provide fresh impetus to Kashmiris' right to self-determination," he wrote on his official Twitter handle.
Foreign Minister Bilawal Bhutto Zardari also strongly condemned the unjust sentencing of Hurriyat leader in a "sham trial".
"India can never silence Kashmiris' voice for freedom and self-determination. Pakistan stands with Kashmiri brothers and sisters, will continue to provide all possible support in their just struggle," he tweeted.
Inter-Services Public Relations (ISPR), the media of Pakistan's military, strongly condemned the life sentence awarded to Malik on "fabricated charges".
"Such oppressive tactics cannot dampen the spirit of people of Kashmir in their just struggle against illegal Indian occupation. We stand with them in quest for self-determination as per UNSCRs," the DG ISPR said in a tweet.
Last week, the Hurriyat leader was convicted by an Indian court in a "terrorism-related case" after he protested against the charges levelled against him, saying he is a freedom fighter.
According to Indian media reports, the Delhi court asked the NIA to assess his financial situation in order to determine the amount of fine to be imposed.
Malik was also directed by the court to file an affidavit disclosing all sources of his income and assets.
The charges levelled against him included raising funds for the terrorist act, criminal conspiracy, sedition and others.
"Terrorism-related charges levelled against me are concocted, fabricated and politically motivated," his organisation, the Jammu and Kashmir Liberation Front, cited him as telling the court.
"If seeking Azadi (freedom) is a crime, then I am ready to accept this crime and its consequences," he told the judge.
Earlier, the Indian Charge d' Affaires (Cd'A) was called to Pakistan's Ministry of Foreign Affairs and handed over a demarche conveying Pakistan's strong condemnation on the framing of fabricated charges against Malik, who is currently imprisoned at Tihar jail by the Indian authorities.
According to the FO spokesperson, the Indian diplomat was conveyed Pakistan's grave concern that in a bid to suppress the voice of the indigenous Kashmiri leadership, the Indian government had resorted to implicating them in fictitious and motivated cases.
Neither the malevolent Indian tactics of conjuring up false charges against Kashmiri leadership nor the environment of persecution, repression and intimidation could quash the resolute struggle of the Kashmiris, the spokesperson added.
The Indian side was also conveyed Pakistan's deep concern over Malik's incarceration in Tihar Jail since 2019 under inhuman conditions. The brutal treatment meted out to him despite his chronic ailments and denial of decent health care facilities had resulted in steep decline in his health, he said.
The Cd'A was advised to prevail upon his government that rather than unlawfully keeping the Kashmiri leadership hostage and denying them their fundamental human rights, it must immediately halt its state-sponsored terrorism IIOJK, release all political prisoners incarcerated on trumped-up charges, stop human rights violations, lift the inhuman military siege and let the people of IIOJK exercise their right to self-determination as enshrined in the relevant United Nations Security Council (UNSC) resolutions.
Pakistan also called upon the government of India for acquittal of Malik from all baseless charges and immediate release from prison so that he could be reunited with his family, recuperate his health and return to normal life.
Pakistan also urged the international community, including the UN and relevant human rights and humanitarian organisations to take immediate cognizance of the inhuman treatment meted out by India to one of the most prominent Kashmiri leaders, who had been leading a peaceful freedom struggle for the last many decades.
On Saturday, Minister for Information and Broadcasting Marriyum Aurangzeb said that Prime Minister Shehbaz Sharif had issued directives to the Ministry of Law and Justice and the Ministry of Human Rights to raise at the forums concerned at international level the issue of the conviction of Yasin Malik.
Addressing a news conference along with Kashmiri leader, Mashaal Malik, who is also the wife of incarcerated Yaseen Malik, she said that India had made false allegations against peaceful Hurriyat leader Yaseen Malik.
She said that India was conspiring to sentence him to death or life imprisonment through this fake case.
Yaseen Malik had not been accused of any negative activities till date as he was struggling for freedom of Kashmir through peaceful means, the minister said adding that Yaseen Malik had dedicated his entire life to Kashmir cause.