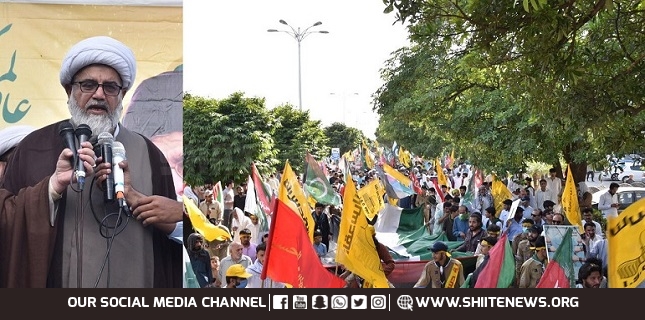 International day of Al-Quds was observed across Pakistan on Friday with mass rallies held to condemn Zionists' atrocities against innocent people of Palestine.
On the occasion of International Al Quds day on the call of Majlis Wahdat ul Muslimeen (MWM), people warmly expressed their solidarity with the oppressed peoples of Palestine, Kashmir and Yemen.
The mass rallies held in Islamabad, Lahore, Karachi, Peshawar, Quetta, Gilgit-Baltistan and Kashmir attended by the people from different walks of life and raised their voice against Zionist atrocities.
In the rallies the protesters also strongly condemned recent spate of killings of Palestinians by the Zionist Regime.
The late Imam Khomeini initiated the International Quds Day as an integral part of the holy fasting month of Ramazan so that Muslims would never forget their responsibility and duty towards Palestine and all oppressed people in the world. The day is held each year on the last Friday of Ramazan.
Charged protestors denounced the Zionist aggression against Palestine during the rallies, they also torched US and Zionist regime flags and chanted slogans against them. Special prayers were offered at mosques for liberation of Palestine.
The Central and Provincial MWM leaders addressing on the occasion said that Bait-ul-Muqaddas is common heritage of the Muslims which has been under illegal occupation of the Zionist forces. They also condemned Zionists'€brutality against Palestinians and praised Hizbullah's struggle against the Zionist forces. The religious scholars in special meetings passed resolutions against Zionists' illegal occupation of the holy Muslim land and holy mosque, Al Quds. They said that the struggle of Muslims will continue till the abolition of the discriminatory policies towards Muslims. They demanded that Muslims of Palestine should be given equal rights.
They urged upon Muslim countries to resolve their differences through dialogue and not allow the enemy to weaken the Muslim world. Strict security measures were put in place around the rallies and mosques across Pakistan in view of the prevailing law and order situation. Special programs, seminars and conferences were also held across Pakistan to highlight the cause of Palestine.
Islamabad rally was led by Central Secretary General of Majlis Wahdat ul Muslimeen, Allama Raja Nasir Abbas Jaffari, huge protestors rally marched to D Chowk.
Addressing the rally, MWM Chief said Al Quds is a day of free peoples, the great philosopher and idol breaker Imam Khumeni initiated this great day against Zionist regime, now the whole world get aware of the atrocities and human violations against oppressed peoples.
Al Quds does not belong to any sect, it is observed across Pakistan and rallies held by both Shitte and Sunni peoples.
He said Imam Hussain AS is a great symbol of resistance against the cruel and arrogant powers, we are the followers of Imam Hussain AS, who preferred Martyrdom instead of accepting the sinful rulers.
US and Israel are the sinful and arrogant powers in this world, committing crimes against humanity, raising voice against these regimes is the duty of every Hussaini.
The muslim leaders who are accepting illegitimate regime of Israel, due to US pressure or for their vested interests, are committing against the values of Islam and they are traitors of freedom movements sacrificing their lives in Palestine.
Israel is a sinking ship, whoever accompany will drown in deep waters will Zionist regime. The fourteen years history is witness that Shitte has always stand with down trodden and deprived ones in the world.
Israel is in the weakest stage of the history, now using war as tool for its survival, we will never accept this illegitimate regime.
The directions of founder of this Homeland Quaid e Azam Muhammad Ali Jinnah about Palestine are great way forward for us, Pakistan founded by Muhammad Ali Jinnah and it will follow his direction not any 'Ziaee' doctrine can be implemented here.
Allama Abdul Khaliq Asadi in Lahore, Allama Syed Ahmad Iqbal in Karachi, Allama Waheed Kazmi in Peshawar, Dr Iftikhar Naqvi in Faisalabad, Allama Ali Rizvi in Gilgit, Allama Nayyar in Skardu and Syed Yasir Abbas lead the rallies in Muzzafarabad.