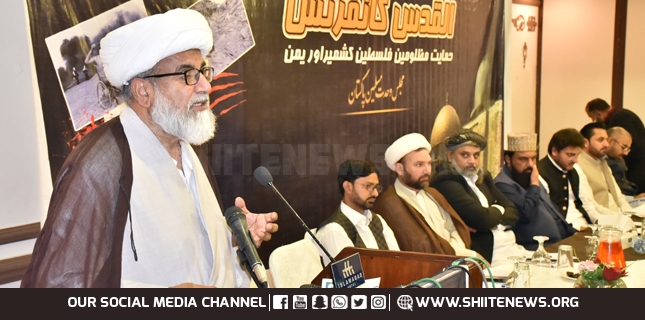 Shiite News: The Head of MWM Pakistan, Allama Raja Nasir Abbas Jafferi said that Israel is a co-production of Imperialism and Communism. He expressed such views while addressing Al-Quds Conference for solidarity with Palestine, Kashmir, and Yemen. He said that Imam Khomeini (RA) declared last Friday of Ramadan as Yom Al-Quds in such moments when So-called Worlds Powers were trying to approve Israel as a reality of the world. Resultantly, public retaliation defeated Israel.
He added that said decision of Imam Khomeini equipped stone-throwing Palestinians with the latest technology to fight with Israel. This is why the dream of Israeli expansion is passing through a tough time. In this respect efforts of Shaheed, Qasim Sulemani will remain always alive, which damaged the Israeli plans. He also said that the forces which fought against ISIS served Islam. All the credit for retaliation against Israel goes to Imam Khomeini and his team.
He further said that the USA is an enemy of Pakistan who to wants to break Pakistan but we will never allow imperialistic power to make their dream come true. Shia and Sunny will jointly retaliate against Anti-State elements and conspiracies.