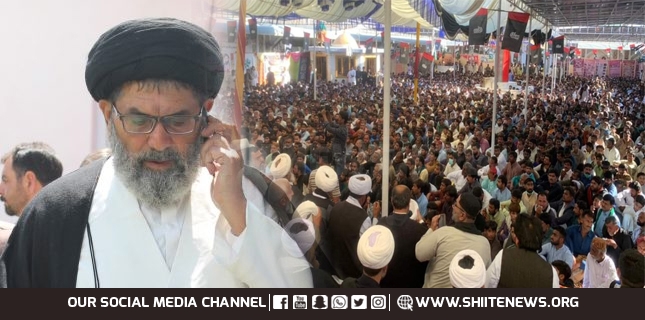 Shiite News: The SUC Pakistan held Martyr Anniversary of Shuhda-e-Sehwan at the Shrine of Hazrat Lal Shahbaz Qalandar, which was attended by large number of Scholars including Allama Shabir Mesami, Hasnain Mehdi, Maulana Baqir Najafi, Allama Syed Nazir Abbas Taqvi, Allama Mohsin Mehdavi, Zahid Ali Akhwandzada, and others.
On this occasion, Allama Sajid Ali Naqvi said during his telephonic address that the Holy Quran let us for virtue and restrain from sins, this message is universal and uniformed for all caste, creeds, race, ethnicity, therefore we should promote good deeds and avoid sins, this effort is for all classes.
He added that we introduced unity among the Ummah in Pakistan, which is based on common historical incident, therefore we will not accept any Curriculum a certain sectarian brand. We are working for it while it is a task of the State. He demanded Government to from dignified policies of Zaireen, current measures are not acceptable at all.