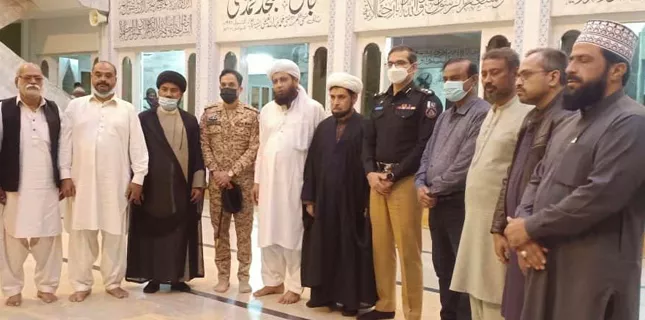 Shiite News: Patriotic Shia Ulema and Elders have once again thwarted the conspiracy of sectarian riot along with civil and military administration. They also announced to form a committee for sectarian harmony to set free the city from sectarianism.
In this regard, DC Malir, Ghanwar Ali Laghari, SSP Malir, Irfan Bahadur, Wing Commander Rangers, Umar Farooque visited Jamia Mujadadia Naeemia, Shahibdad Goth, Malir for solidarity along with the Head of Jaffer-e-Tayyar Action Committee, Allama Dr. Syed Naseem Haider Zaidi, Secretary-General MWM Syed Ahsan Abbas Rizvi, Sibate Raza (Markazi Tanzeem-e-Aza), and others.
This delegation met with the administrator of Jamia, Mufti Muhammad Jan Naeemi, and discussed various matters including ongoing conspiracy for sectarian hatred and points of religious harmony. He welcomed the delegation and ensured his utmost efforts to maintain religious harmony. On this occasion, elders of both sides jointly announced a committee to maintain peace at the district level.
It is remembered that a few miscreants were trying to spread sectarian riots in the city following a Majlis held in Jaffer-e-Tayyar, Society held on 15th January 2022 to pay homage to the Martyrs of Islam.