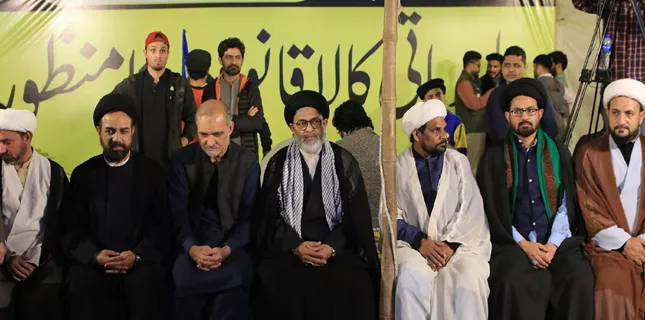 Shiite News: A delegation SUC Sindh led by provincial president Allama Asad Iqbal Zaidi joined Jamat Islami (JI) at Sindh Assembly in it sit in protest under the title of "Karachi ko Haq do" for solidarity. In the said delegation of SUC, General-Secretary Sindh, Allama Syed Razi Haider Zaidi, President Karachi Division, Allama Kamran Haider Abidi, Ali Naqvi, and others were also part of the delegation.
Said protest held by JI against the disputed Local Government bill for Sindh, which was presented by ruling PPP in the provincial assembly.
SUC leaders while addressing the protest, extended full support for JI's protest and emphasized for joint struggle for the citizen's rights. On this occasion, Ameer JI Karachi, Hafiz Naeem-ur-Rehman welcomed the delegation of SUC and expressed his thanks to participate in the sit-in protest.