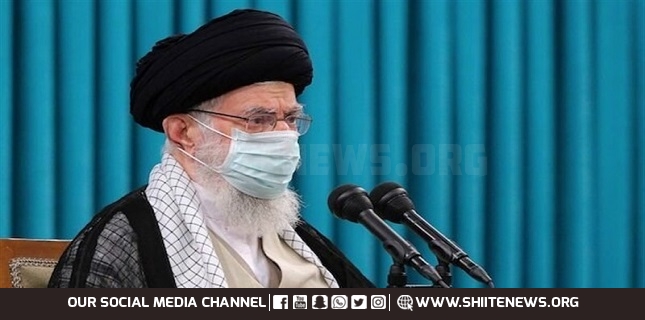 The leader of the Islamic Revolution says that besides defending geographical borders, martyrs defend religious, spiritual and cultural borders.
The following is the full text of the speech delivered on November 21, 2021, by Ayatollah Seyyed Ali Khamenei, the leader of the Islamic Revolution, in a meeting with the officials in charge of conducting the Martyrs of Ilam Commemoration Ceremony.
In the Name of God, the Beneficent, the Merciful
Praise God, the Lord of the Worlds, and peace and greetings be upon our Master, Muhammad, and upon his pure Household.
You are very welcome here, dear brothers and sisters. I thank you very much for organizing this Commemoration Ceremony and for making this very valuable move. I saw the exhibition before coming into the Hussainiyyah, and the services rendered are very good. Of course, these peripheral promotional activities should be carried out very much at such commemoration ceremonies, and I hope God will help you to do so.
During the Sacred Defense, Ilam was like a strong fortress. Although some cities of the province were lost for a short period of time – some areas of the province were occupied by the vicious Munafiqeen [MEK] – the province stood firm like a mountain, similar to the Meimak Summit which I stood on and where I witnessed the magnificent work done by our dear soldiers. The province of Ilam stood up to the vicious enemy, Saddam and his collaborators, just like that summit.
First of all, the province was attacked sooner than other provinces, as mentioned by the gentlemen in this meeting. The enemy attacked Ilam before it officially attacked Tehran and other parts of the country. And the first martyr – martyred on a Saturday, as pointed out by one of the gentlemen – was actually martyred before the outbreak of the war in Ilam. In other words, the entire population of the province of Ilam were among those involved in the Sacred Defense.
Later on, too, some unique events took place in Ilam. Unfortunately, our own people are not aware of these events, let alone other nations which are interested to know about the incidents and events that have taken place in our country. Even our own people are not aware of these events, much less those nations. One of those events was the bombardment of a soccer match where children were playing soccer in the year 1365 AH [1987 AD].
On February 12, 1987, two young teams from Ilam played in a soccer match in commemoration of the 7th victory of the Revolution. The people had gathered there as well as spectators, but an Iraqi plane struck them from up close. In other words, it knew what was happening there. It is not the case that it dropped bombs by accident. It dropped them on purpose, and as a result, 10 of those soccer players were martyred. The referee, a number of children and some spectators were martyred as well. This is not a minor incident. This is a very important event.