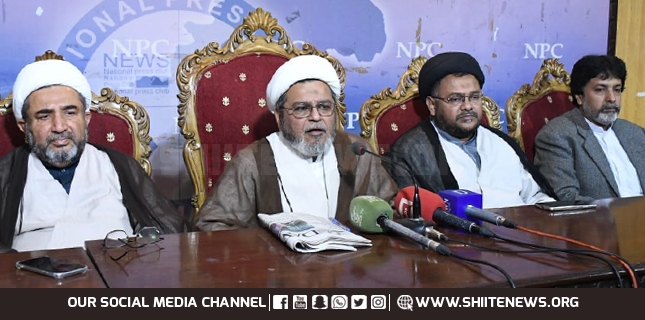 Shiite News: The Central Secretary-General of SUC Pakistan, Allama Shabir Mesumi said that the unwise Governmental Policies have made the life of a common man hell. Inflation, Crimes, and unemployment have put the country on the verge of devastation. He expressed such views while addressing a press conference held at the National Press Club, Islamabad.
He added that on one side Pakistan is facing the most dangerous time while the Government is busy rising the prices of the items of daily use whereas the crime rate has crossed its limit. Citizens' rights are being trampled but the ruling elite is making them fool.
He further said that price hike of petroleum products has been common, groceries have become out of common man's reach, public and private sectors employees had no rise in the wages but the rulers are emphasizing "All is well". They have no welfare program for the public.
During his address, he also talked about the constitutional rights of GB and the issue of Missing persons. On this occasion, Allama Arif Hussain Wahidi, Allama Syed Nazir Abbas Taqvi, and Zahid Akhuwandzada were also present.