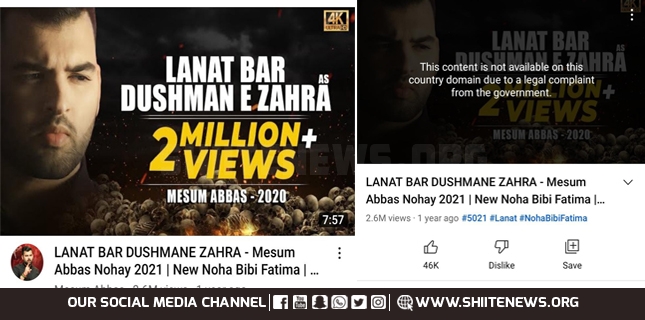 Shiite News: Ruling PTI is full-time engaged in pleasing outlawed Takfiri organizations like Sipah-e-Sahaba and Lashkar-e-Jhangvi as its Government has requested Youtube to ban the Noha recited by Mesum Abbas "Lanat Bar Dushman-e-Zehra (AS)".
On searching said Noha, Pakistani users received a dialogue box cited "This content is not available on this country domain due to a legal complaint from the government.
Saudi Funded outlawed Sipah-e-Sahaba and Lashkar-e-Jhangvi use to complaint against Noahs, Majalis, Azadari, and Sermons to Pakistan's Cyber Crime Wing and it bans them but never takes any action against blasphemous content against Holy Prophet PBUH and his dignified family, which is still available on social media but our law enforcement agencies never take any notice of such a deplorable material.