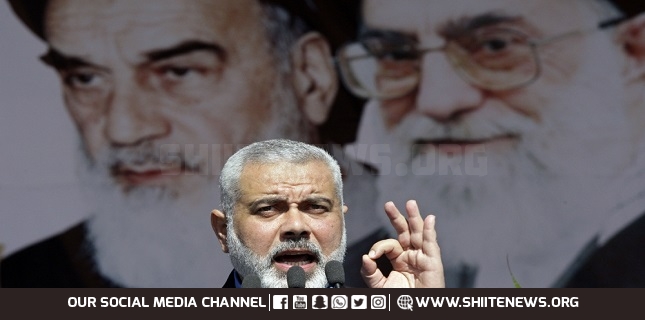 Hamas political bureau chief Ismail Haniyeh has lauded Iran as an important pillar of the resistance front, saying it is the crucial source of support for Palestinian groups.
"Our relations with Iran are of strategic significance because Iran is one of the important pillars of the resistance front," Haniyeh said in an interview with Arabic-language al-Aqsa TV channel Saturday night.
"It is no secret that Iran provides political, material, military and technological support to the Palestinian resistance bloc," he added.
Haniyeh, on the other hand, slammed Saudi Arabia over its policies towards the resistance, including its imprisonment of Hamas members in the kingdom.
"The verdicts handed down by Saudi Arabia against detained Palestinians are shocking, especially as the only charge against them is aiding Palestinian people," the Hamas leader said.
Back in early August, a court in Saudi Arabia delivered verdicts against 69 Palestinians and Jordanians, handing jail terms of up to 22 years to some.
Hamas and Islamic Jihad resistance movements vehemently condemned the lengthy prison terms, noting that the verdicts were part of Riyadh's efforts to curry favor with Israel.
Mahmoud al-Zahar, a senior Hamas official, told Lebanon's al-Mayadeen television news network then that the trial of Palestinian inmates was illegal, because they had committed no crime against the Saudi government.
"The verdicts against Palestinian detainees have been issued at the request of the Zionist regime," he said.
The Islamic Jihad resistance movement, for its part, condemned Saudi court's rulings, noting that the detainees were put in jail because of their support for the resistance of the Palestinian nation.
Elsewhere in his remarks on Saturday night, Haniyeh said Hamas' top priority is to protect the Palestinian issue, and to not allow at any costs Palestinians to be deprived of their rights.
The head of the Hamas political bureau went on to say that his movement is also determined to safeguard the Palestinian resistance front, and expand it in various domains.
Haniyeh said his group is intent to foster the spirit of resistance among the residents of Israeli-occupied territories as well as among Palestinian expatriates.
He noted that Hamas seeks to restore unity among the Palestinians, transcend existing divisions, form political alliances among Palestinian factions and develop relations with Arab and Muslim states.
The Palestinian resistance movement, he said, is eager to cement relations with the international community, and use important developments in favor of Palestinians and their cause.
Haniyeh said Hamas is also resolute to defend al-Quds, protect the holy city against conspiracies of the occupying Israeli regime, and secure the release of Palestinian prisoners from Israeli prisons and detention centers.