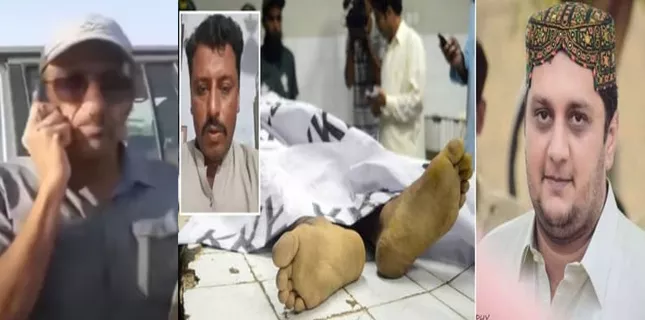 Shiite News: A landlord and an MPA of PPP Jam Owais Jokhio killed a member of the Jokhio community named Nazim Jokhio because he stopped an Arab Prince from hunting the Telur in Memon Goth. Malir Police has lodged an FIR against accused MPA and others following the notice of CM Sindh, Syed Murad Ali Shah.
According to the brother of late Nazim Jokhio 27, Afzal Jokhio told the media that the Arab princes came to the area of Karo Jabal, Malir, Karachi for hunting of the Telur which is a precious bird and late Nazim Jokhio captured their activities on his camera as he was reportedly resisting them to do so. Nazim was a resident of Achar Salar village in Malir and an employee of the District Council. He was also a father of 3 daughters and a son, who are aged between 1 to 5 years. Later on, Nazim's viral video on social media. On this step of Nazim, Jam Gohram called me and asked why did Nazim have viral the video. I said that it was his mistake, but he did not accept my excuse and told me to bring Nazim to his place, we did so then he took us to MPA Jam Owais, whose guards tortured Nazim and he told us to go back home, he also said us to come in the morning for decision. In the morning, when we reached there my brother was not alive and they refused us to give him the dead body.
He further said the video viral by Nazim shows that Nazim was near a cart which number plate was tagged with Dubai, while he was saying that they are Arabs who have blocked our passage and also threatening to call the police.
After the burial of Nazim, his people reached the National Highway and blocked both tracks in protest. On this public reaction CM Sindh, Syed Murad Ali Shah took the notice of the said incident and Malir Police lodged an FIR against sitting MPA of PPP, Jam Owais Jokhio, Niaz Salar, and others. Murad Shah also advised the Police to lodge FIR according to the statement of the bereaved family and vowed to provide them justice.
On the other hand, Sindh Government has formed 8 members of the Joint Investigation Team (JIT) under the command of SPP Malir, Irfan Bahadur, in which SPP Investigation I & II, DSP Memon Goth, DSP Investigation I, and other members are included. The JIT will report daily proceedings to its head. Before, this development MPA Nazim Jokhio had also been voluntarily arrested in Memon Goth, Police Station.