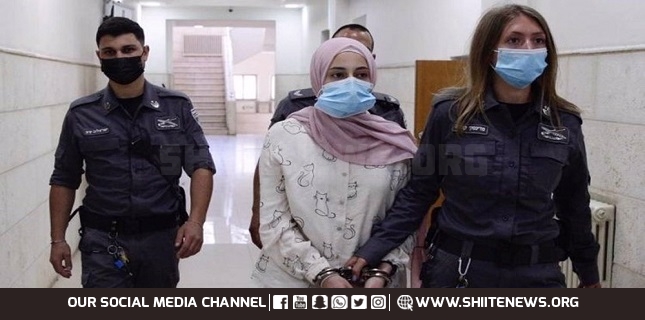 An Israeli court has handed down a prison sentence to a young Palestinian woman after accusing her of communicating with Lebanon's Hezbollah resistance movement.
The Jerusalem District Court on Sunday sentenced Yasmine Jaber, a resident of East Jerusalem al-Quds, to 30 months in prison starting August 4, 12 months of probation and a 5,000-shekel ($1,500) fine.
According to a charge sheet, Jaber was in contact with Hezbollah members during her visits to Lebanon and Turkey between 2015 and 2018 and continued to communicate with them on social media platforms.
Jaber was allegedly instructed to "recruit additional activists inside Israel with a focus on Arab Israelis and in particular women".
Jaber's family denied the allegations.
She was arrested last August and was interrogated 20 hours a day for weeks at a time.
More than 7,000 Palestinians are reportedly held in Israeli jails. Hundreds have been incarcerated under the practice of administrative detention, which allows holding Palestinian inmates in Israeli prisons without trial or charge.
Some Palestinian prisoners have even been held in administrative detention for up to eleven years.
The ruling comes as weeks of Israeli harassment of Palestinians in Jerusalem al-Quds and attempts to appropriate Palestinian lands in the Sheikh Jarrah neighborhood was followed by the Israeli bombardment of the besieged Gaza Strip, which began on May 10 and lasted 11 days. Over 250 Palestinians were killed.