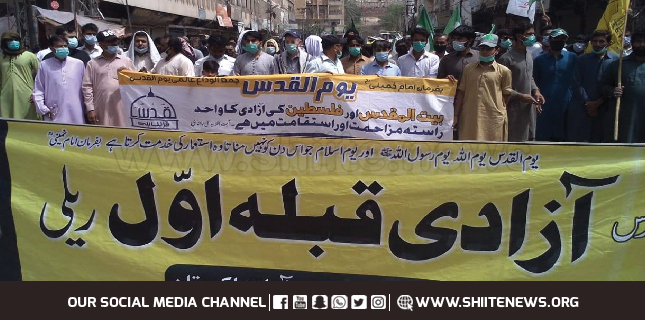 Shiitenews: Al-Quds rally was organised after Juma in Haider Abad on last Friday of Ramadan.
Protesters held banners and Palestinian and Pakistani flags in support of the liberation of Jerusalem and against the usurper Israel.
The demonstrators express their hate to United States and its allies, Israel and its Arab followers, especially Saudi Arabia.
The speakers said that Israel is a tyrannical state that has been created by shedding the blood of millions of innocent people.
He said that Jerusalem was and will remain the capital of Palestine. According to the decree of the founder of Pakistan, Quaid-e-Azam Muhammad Ali Jinnah, Israel is a usurper state and Pakistan will never recognize Israel.