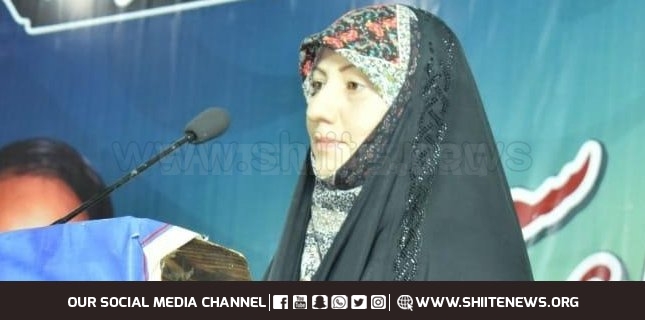 Shiitenews: In order to draw the Islamic world to the issue of Palestine, Imam Khomeini (may God have mercy on him) called for the observance of Al-Quds Day on the last Friday of Ramadan, as a result of which the United States, Israel, Zionism, arrogance and colonialism are dead today. Every conscious Muslim today says that the issue of Palestine and Jerusalem is not just a problem of the Arabs, the liberation of Jerusalem is not just a problem of the Palestinians but it is an important and fundamental issue of Islam that oppresses And it cannot be eradicated by force. These views were expressed by Syeda Zahra Naqvi, Central Secretary General of MWM Women's Department and Member Punjab Assembly in a statement issued from Media Cell on the occasion of International Al-Quds Day.
She said that Palestine is the blessed land towards which the Holy Prophet S.A.W.W prayed with his companions and Ansar. This is the land from where the Holy Prophet S.A.W.W ascended. If the Islamic world wants peace and order, they must take immediate action for the liberation of Palestine.
She said that Al-Quds is the day of Islam, the day of Quran and the day of Islamic government and Islamic revolution. The enemy is tearing apart Islamic unity by inventing religions and sects and national and linguistic divisions. It is still time for Muslim nations to come to their senses and use Islamic awareness to declare their support for the Palestinians.