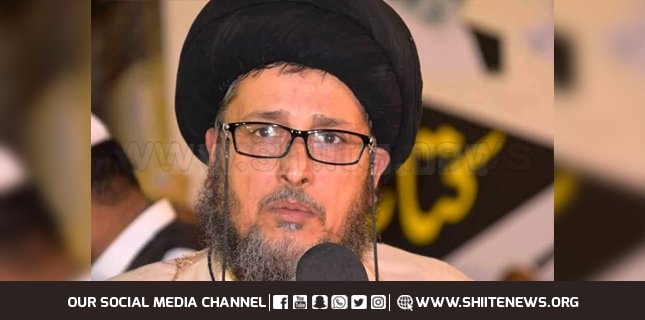 Shiitenews: Allama Syed Sibtain Haider Sabzwari, President Shia Ulema Council North Punjab, while congratulating the Jafaria Nation on the successful conduction of processions on the day of martyrdom of Amir-ul-Momineen Ali (AS), He condemned the registration of illegal cases by the government and administration and clarified that Hypocritical tactics of tyranny were used many times but mourning could not be stopped.
He said that such tactics have been tried by the previous governments as well as the present government, but each time they have failed miserably, every conspiracy to ban mourning on the name of corona will be made to fail, mourning is not an obstacle for the government so the state machinery shouldn't use to interrup mourning. Allama Sibtain Sabzwari clarified that mourning is our worship, it cannot be stopped. No matter how heavy the cost, mourning will continue.
"The Fourth Schedule, arrests and trials cannot be an obstacle to mourning. The state has to change its cruel ways. Talking to Government he said you have failed to intimidate Husseini mourners. Stop now and work to provide relief to the people," he said you cannot control the running out situation of sugar stocks nor the high prices.
He added that the pilgrims have infamoused last year on the name of corona but later it was researched that corona was reached here from UK.
The leader of the Shia Ulema Council said that I m astonishing that the queues in Ramadan bazaars and banks, Karachi, Daska and Khushab by-elections do not spread corona, Taraweeh and I'tikaf are still on but why the government is just banning the processions of Youm e Ali A.S and mournings? We have foiled all conspiracies against mourning, we suggest the government to stop doing all this and work for the relief of the people.