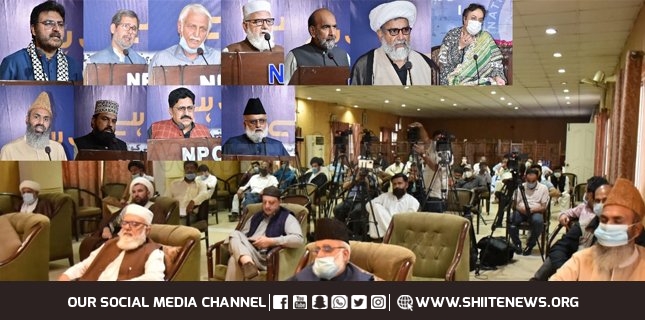 Shiitenews: Addressing a function organized by Majlis-e-Wahdat-e-Muslimeen and Milli Yekjahti Council titled "Freedom of the First Qibla is Near", Allama Raja Nasir Abbas Jafari, Central Secretary General of Majlis-e-Wahdat-e-Muslimeen Pakistan said that before the Islamic revolution of Iran muslim rulers were showing lack of seriousness about the issue of Palestine Imam Khomeini brought life to this issue. The Israeli occupied space was very small in its early stages. Jews and Christians are working hard to turn it into a Greater Israel.
He said the persistence of Palestinian Muslims and the resistance of the people had frightened Israel. That is why the Deal of the Century was ashamed of its failure. Israel's catastrophe has begun. Businessmen who were in Israel for a brighter future are returning to their homelands. Israel stated a few days ago that we are threatened by Yemen's ballistic missiles, this reveals the fear of the Zionists.
Addressing the Al-Quds seminar, Chairman of the Islamic Ideological Council Qibla Ayaz Sadiq said that the issue of Palestine is a question mark on the role and performance of world peace organisations. Thousands have been martyred and thousands of Palestinians are still in prisons of Israel.
But the so-called signs of peace, including the United Nations and the OIC, have becime silent spectators instead of supporting the oppressed Palestinians. The Muslim Ummah should have a clear view and position on the Palestinian issue, like Iran and Lebanon.
Addressing the seminar, senior journalist Mazhar Barlas said that some Islamic countries are supporting Zionist extremist groups against Palestinian Muslims. Putting their own interests first, they are extending a hand of friendship to Israel, which is a shameful. Unless we have unity within ourselves, we do not deserve to be called a true Muslim nation.
Addressing the seminar, Deputy Secretary General MWM Nasir Abbas Shirazi said that the main cause of instability in the Middle East is the policies of Israel and its supporters. The real threat to Islam is from the so-called Islamic countries that are so caught up in the love of Israel that they are not even refraining from oppressing their own Muslim brothers. Pakistan has not and should not be a part of the war in Yemen.
Federal Minister for Human Rights Dr. Shirin Mazari, Jamaat-e-Islami leader Liaquat Baloch, Mr. Saqib Akbar of Milli Yekjahti Council, PPP leader Farhatullah Babar, Qibla Ayaz of Milli Yekjahti Council, Mr. Liaquat Baloch, Gulzar Naeemi and MWM Allama Iqbal Beheshti and other religious and other political leaders addressed the seminar.