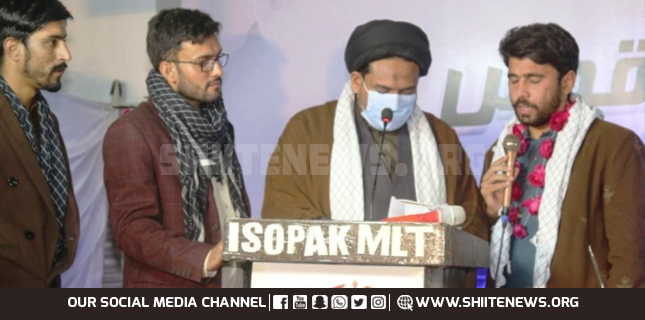 Saqlain Zafar elected president of ISO Multan Division chapter during annual divisional convention.
Majlis-e-Wahdat-e-Muslimeen (MWM) South Punjab secretary general Allama Syed Iqtidar Naqvi administered oath to him.
Saqlain Zafar elected president of ISO Multan
Meanwhile, Hujjatul Islam Naqi Hashmi and former president of Imamia Students Organisation (ISO) Pakistan Yafis Naveed Hashmi also addressed the convention.
Earlier, electoral college elected Saqlain Zafar as DP ISO Multan.
MWM Pakistan's deputy secretary general Nasir Shirazi announced result of the election.
The convention held at Imam Bargah Abal Fazl Abbas (AS) Chowk Kumharan Wala.
Apart from aforesaid notables, Allama Ghazanfar Hyderi, Allama Azeem Hur Najafi, Maulana Kashif Hyderi, Maulana Waseem Abbas Masoomi, ex-CP Tahwar Hyderi, ex-DP Farrukh Mehdi, Abis Raza Siyal also attended.