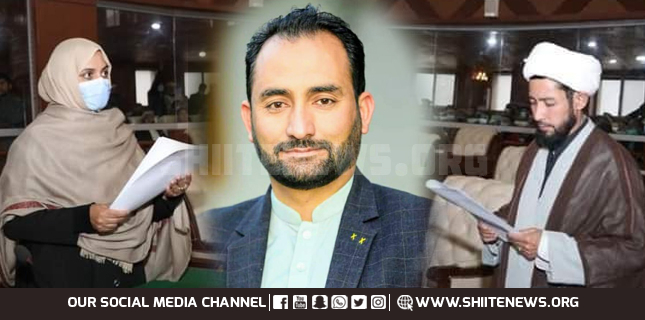 Kazim Maisam and two other MWM members take oath as MLAs GB – members of legislative assembly Gilgit Baltistan.
Other parties elected MLAs also took oath.
Majority of electorates elected Kazim Maisam of Majlis-e-Wahdat-e-Muslimeen (MWM) from Skardu-II.
Kazim Maisam and two other MWM members take oath
Allama Ali Akbar and Kaneez Fatima became members Gilgit Baltistan Legislative Assembly (GBLA) on reserved seats for technocrats and women, respectively.
Meanwhile, MWM Pakistan's deputy secretary Nasir Shirazi and political affairs secretary Asad Naqvi held a meeting with Federal Minister Ali Amin Gandapur.
Reports had it they discussed formation of new government.
Both MWM and Gandapur's PTI had reached electoral accord in GB election 2020.
Under that, MWM fielded three contestants in the general election while supporting the PTI's nominees on many constituencies.
Although MWM claims that Kazim Meesam would get a ministry, portfolio remains undecided so far.
Earlier, the party said he may get education or planning and development ministry.
Now, they said Kazim Meesam may get Commerce and Industry department as minister in forthcoming GB government.
GBLA comprises of 33 members; of them, six reserved for women and three for technocrats.
Direct election is held for 24 general seats, while aforesaid 9 reserved seats are filled as per winning parties' total strength after the results of general election.