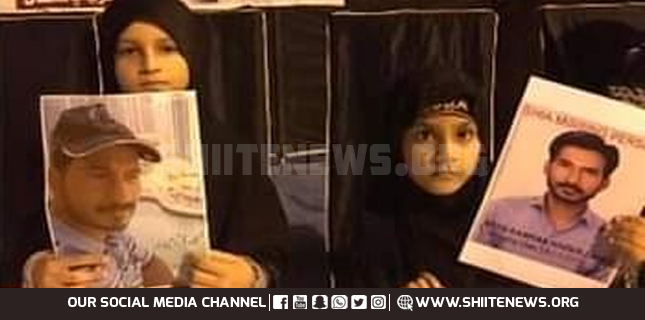 Kamran Zaidi subjected to enforced disappearance again within 8 months of his release.
Eight months ago, the security agency released him after having subjected him to enforced disappearance for one and half year.
Kamran Zaidi subjected to enforced disappearance again
The affected family has condemned the unjustifiable detention of Kamran Zaidi.
Family members and relatives lamented that some elements within the state institutions target innocent Shia Muslims.
They termed the enforced disappearance of members of peaceful Shia Muslim community and uncalled for biased, selective and discriminatory policy.
Meanwhile, Shia notables underline Shia Muslim community as the only peaceful community that had not turned against state nor joined anti-state elements, despite such dirty pogrom.
Furthermore, they demand immediate release of all Shia Muslims subjected to enforced disappearance.
Particularly, his wife and minor daughter demand the authorities concerned to release Kamran to save the family from economic assassination.
Joint campaign
The cops rounded up dozens of Shia youth from across Pakistan, particularly from Malir, Shah Faisal, Gulbahar and other places.
Unfortunately, the cops conducted midnight raids at their houses, while violating sanctity and privacy of the families.
The affected families, Shia Islamic parties, scholar, notables and other community leaders have been running a joint campaign to seek justice.
Under that campaign, the families of Shia missing persons had staged sit-in outside Karachi residence of President of Pakistan Dr Arif Alvi, that enjoys official status of Presidential camp office.
They had held sit-in outside Multan residence of Foreign Minister Shah Mahmood Qureshi.
Besides, they have also held countless protest rallies and demonstrations across Pakistan.
Tens of thousands of supporters of the affected families of missing persons participated in their protests.
Missing persons in Pakistan is also used as a term for those subjected to enforced disappearance.
Elderly grandmothers, children, women, youths, all-age- group-people are protesting and the rest of the community and supporters are expressing solidarity with them.