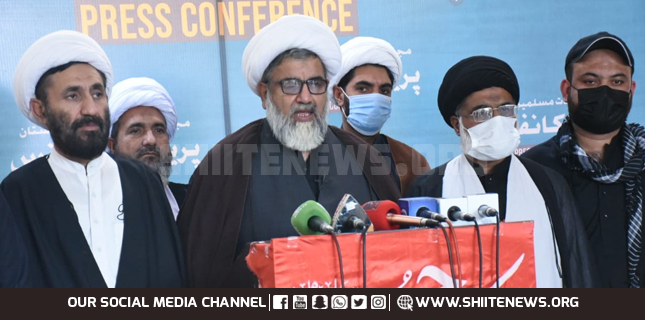 Allama Raja Nasir says followers of Imam Hussain are leading majority in Pakistan where Yazidi (followers of Umayyad tyranny) are seeking to paralyze the country.
While addressing a press conference in Islamabad, he said that Sunni and Shia Muslims adore Imam Hussain and they reject his enemies.
Allama Raja Nasir says followers of Imam Hussain are majority
Hence, he said Arbaeen anniversary would show to the world Sunni-Shia unity and united Hussainis.
He said enemies of Islam and Muslims were fanning sectarianism and preaching ideology of bigotry in Muslim counties to divide them.
Furthermore, he said that Pakistan has also fallen victim to this conspiracy.
Meanwhile, Allama Raja Nasir underlines azadari as servitude, identity, guarantor of eternity.
MWM Pakistan leader said that Hussainiyat is a yardstick that separates righteous from wrongs (illegitimacy).
He said that let alone Islamic world, the entire humanity reveres Imam Hussain (AS)'s righteousness.
Furthermore, he said even Hindus, Christians and followers of other religions also pay homage to Imam Hussain in Karbala on Ashura and Arbaeen (Chehlum).
Majlis-e-Wahdat-e-Muslimeen leader reminded Hussainis that takfiris raised slogans in favour of Umayyad tyrant Yazid.
Therefore, Allama Raja Nasir Abbas Jafari asked all adorers and followers of Imam Hussain to largely participate in Arbaeen azadari (Chehlum mourning procession) on 20th Safar.
He said that followers of Hazrat Mohammad, God's last Prophet an Apostle, should to the world about their feelings against the cursed Umayyad tyrant Yazid.
MWM leader appealed to all Pakistanis to throng Arbaeen Chehlum mourning processions to make 20th Safar 1422 a historic Arbaeen (Chehlum) anniversary of Imam Hussain-led Martyrs of Karbala.
He said that Arbaeen mourning brings to our memories the challenge which Bibi Syyeda Zainab al-Kubra had given to Umayyad tyrant Yazid in 61 A.H.