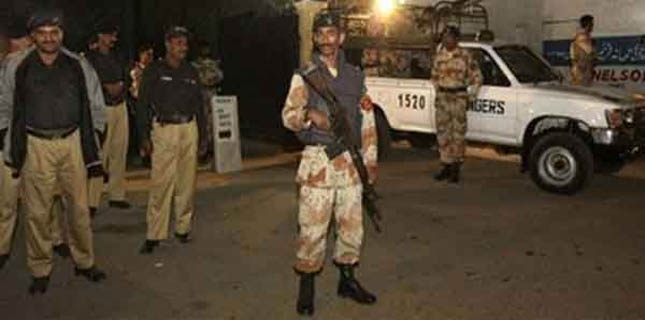 Two terrorists of Lashkar Jhangvi arrested in joint raid in Karachi which Pakistan Rangers (Sindh) conducted together with CTD cops.
According to the Pakistan Rangers (Sindh), they and the Counter-Terrorism Department (CTD) of Sindh Police arrested two wanted criminals having Rs5 million bounty.
They belong to banned Deobandi takfiri terrorist outfit Lashkar-e-Jhangvi. However, Rangers press release has not mentioned name of the outfit.
Two terrorists of Lashkar Jhangvi arrested
But press release said they jointly conducted a raid on a tip-off and arrested Samiullah alias Arshad and Muhammad Jaffer alias Barkat.
Moreover, the statement noted Attaur Rehman alias Naeem Bukhari, the leader of the banned outfit, and Sabir Munna alias Bhai Jan, who headed the group's target killing wing, already arrested.
As per the statement, each of said wanted criminals had a bounty of Rs5 million on their heads or arrests.
The statement said that Samiullah confessed to have killed four Rangers personnel in Baldia Town in 2015.
He also confessed the target killing of police personnel and Awami National Party (ANP) leaders: Dr Ziauddin and Haji Saifullah Afridi between 2014 and 2015.
The LeJ terrorist confessed the murder of a Pakistan Navy official, Syed Jaffar Raza, in 2020, during initial interrogation.
Meanwhile, Jaffer confessed to have killed 13 policemen. He also confessed to have perpetrated seven murders on sectarian and ethnic grounds, on the directives of Munna.
Besides, he confessed his involvement in target killings of Ahmedis/Qadianis, the murder of ANP's Syed Lal Darwesh in 2020 and other offences including robberies.
The arrested have been handed over to the police for further legal action.