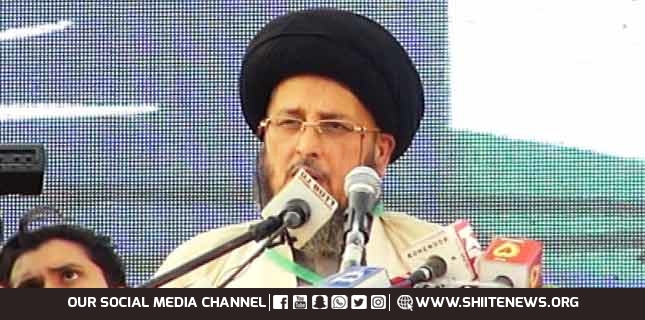 SUC leader notes bias in selective reaction to Covid19 from politicians who objected to media trial of Tableeghi Jamaat but didn't condemn media trial of Zaireen.
Shia Ulema Council leader Allama Sibtain Sabzwari said they didn't issue statements in support of Zaireen against malicious campaign.
SUC leader notes bias
But they came forward to support Tableeghi Jamaat despite positive test reports for Coronavirus infection.
However, SUC leader hails statements from Chaudhry Pervaiz Ilahi of PMLQ, JI leader Sirajul Haq and JUIF leader Fazlur Rehman but also reminded them of their silence on campaign against Zaireen.
Allama Sibtain said that (Shia) Zaireen (pilgrims) who returned from pilgrimage via Taftan border crossing suffered the most due to biased policy.
He suggested these politicians should also have issued statements to condemn maltreatment and media trial of those (Shia Zaireen).
MWM leader asks PMLQ leader
Earlier, MWM leader asked PMLQ leader to also defend Zaireen against propaganda.
Majlis-e-Wahdat-e-Muslimeen leader Asad Abbas Naqvi has suggested this to PML-Q leader Chaudhry Pervaiz Ilahi.
He reminded Ch Pervaiz Ilahi that some elements had made every effort to malign and defame Shia pilgrims (Zaireen) through lies.
But false propaganda against Zaireen exposed the liars and Shia pilgrims' stance vindicated.
Naqvi said that some elements are taking undue advantage of Ch Pervaiz Ilahi's statement because he didn't identify who remains engaged in negative propaganda against Tableeghi Jamaat.
MWM leader said that he should name the particular group because Zaireen also had to face similar negative propaganda.
How Coronavirus spread in Pakistan
Because of biased policy of the state authorities, Tableeghi Jamaat not only held its congregation in Raiwind but they also spread Coronavirus to Pakistanis.
It remains ludicrous that now their groups having foreigners are 'preaching' in Pakistan while Pakistani nation prefers to stay at homes.
Unfortunately, when the entire Pakistan is observing a lockdown these Deobandi preaching groups (or Tableeghi Jamaat) are roaming across the country.
Let alone the man from Haripur (Khyber Pakhtunkhwa), four foreigners were roaming in far-away Nawabshah district (Sindh).
Meanwhile, Shia Muslims urged Speaker Punjab Assembly Ch Pervaiz Ilahi and others to refrain from double standard on the issue.
They suggested they should also defend innocent Zaireen and also issue similar statementd for them as well.
Meanwhile, Allama Sajid Naqvi rejected allegations against Shia Zaireen while noting that they had remained under government custody since their entry into Pakistan.
Shia Ulema Council head reminded the critics that those pilgrims returned Pakistan via Taftan border crossing have remained under government custody.
He said first government kept those pilgrims at quarantine centres in Taftan and then at provinces.