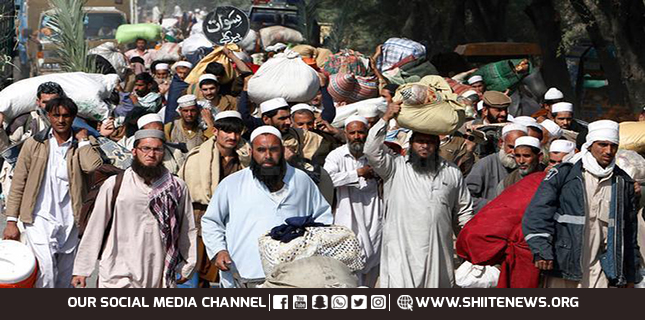 Karachi Tableeghi Jamaat members found infected with Coronavirus in Hangu where a 36-year old man died of COVID-19 on return from United Arab Emirates.
Hangu district of Khyber Pakhtunkhwa province reported positive test reports of six more Tableeghi Jamaat members. They earlier reported first case hence numbers rose to seven, now.
Karachi Tableeghi Jamaat members
The administration shifted to Isolation Ward in District Headquarters Hospital.
The man from Hangu who died on return from UAE was second Pakistani who lost life due to COVID-19. The first Pakistani who died of Coronavirus hailed from Mardan but he had returned from Saudi Arabia.
Because of biased policy of the state authorities, Tableeghi Jamaat not only held its congregation in Raiwind but they also spread Coronavirus to Pakistanis.
It remains ludicrous that now their groups having foreigners are 'preaching' in Pakistan while Pakistani nation prefers to stay at homes.
Tableeghi Jamaat member died
Earlier, Tableeghi Jamaat members died of Coronavirus at Hyderabad hospital.
Senior member of Deobandi Tableeghi Jamaat Manzoor Memon died of COVID-19 at civil hospital in Hyderabad. He was 70. But he belonged to Tando Mohammad Khan.
He had participated in Deobandi preaching congregation or Tableeghi Ijtima in Raiwind (Lahore) in March.
Two others died in Karachi. The infected Deobandi Tableeghi transmitted Coronavirus to Manzoor Memon and others which claimed their lives.
Unfortunately, the government and the organizers of the congregation put lives of millions of Pakistanis at stake by gathering tens of thousands at the congregation.
Even foreigners participated in the congregation but the government had not banned the congregation in view of Coronavirus pandemic threat.
Due to government's negligence, and because of Deobandi preachers' stubbornness, people from across the country and abroad rallied at Raiwind Lahore.
Now government has found hundreds of the participants infected with Coronavirus after test reports.
They have transmitted it to many others across Pakistan.
79 Deobandi preachers have fled
Earlier, in Bhakkar district of Punjab, the administration shifted 120 such Deobandi preachers at quarantine centre but now only 41 stay there.
Remaining 79 have fled. People say that they are hiding in the surroundings because of lack of public transport facilities due to lockdown.
These Tableeghi Jamaat preachers belong to other districts of Punjab and Sindh province.
Three policemen infected with Coronavirus during duty at Tableeghi Ijtima or preaching congregation of Deobandi preaching party in Raiwind Lahore.
CCPO Lahore Zulfiqar Hameed confirmed Coronavirus infection among three cops.
Biased policy harms Pakistan
Earlier, Deobandi Tableeghi Jamaat member stabbed SHO in bid to flee quarantine centre.
Another group of Tableeghi Jamaat attacked police in  Qasimabad area of Hyderabad after many of the preachers were found infected with COVID19.
Around 100 Tableeghi Jamaat clerics including foreigners found in Sukkur although Pakistan is witnessing lockdown to prevent Coronavirus spread.
Deobandi Tableeghi Jamaat or preaching party has violated lockdown and also defied precautionary measures.
Even foreigners are roaming along with local preaching party in Pakistan and many diagnosed with positive tests for Coronavirus.
Many Deobandi preachers of Tableeghi party also attacked police, first class magistrate and medical staff in Hyderabad.