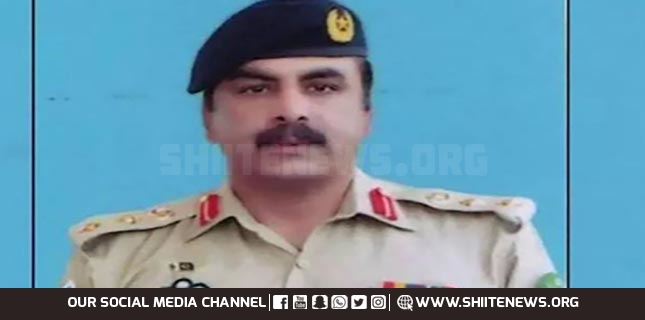 Two terrorists killed while Pak Army Colonel martyred in a shootout near Tank/Dera Ismail Khan.
According to Inter-Services Public Relations (ISPR), security forces conducted an intelligence-based operation at terrorist hideout.
Two terrorists killed
The two high-profile terrorists who were hiding there lost their lives during the operation.
Moreover, the ISPR stated that as soon as troops cordoned off the area, terrorists began firing.
Colonel Mujeebur Rehman of the Pakistan Army embraced martyrdom in terrorists firing. He was leading the operation.
Martyred colonel of Pakistan Army hailed from Bunji in District Astore of Gilgit Baltistan.
He left behind a widow, three sons and a daughter.
The security personnel also seized a large cache of arms and ammunition from the terrorist hideout.
Meanwhile, President Dr Arif Alvi also Dr Arif praised the courage of Colonel Mujeebur Rehman.
He also prayed for the departed soul and commiserated with the bereaved family.
In a statement, he said that the entire nation is united and determined in the war against terrorism.
IED blast injures 9 including security officials in Chaman where terrorists targeted Levies Force.
They planted explosive device in a motorcycle on Taj Road near the Levies Lines in Balochistan's Chaman area.
The explosion took place just kilometers away from the Pakistan's border with Afghanistan.
Apparently, the blast aimed at Levies Risaldar Maj Naseebullah but he luckily remained safe in the incident, sources said
He was travelling in his car along with his security guards when the blast occurred.
Chaman of Pakistan's Balochistan province shares a border with Afghanistan's volatile Kandahar province.
Suicide blast targeting police vehicle killed 10
Last month (February 2020), at least 10 people lost lives in a suicide blast that targeted a police vehicle in southwestern Pakistan.
The martyrs also included two police personnel.
Reuters reported that according to the hospital they had received 10 bodies so far and 35 injured in Civil Hospital.
Suicide bomber explodes in Quetta mosque killing 15.