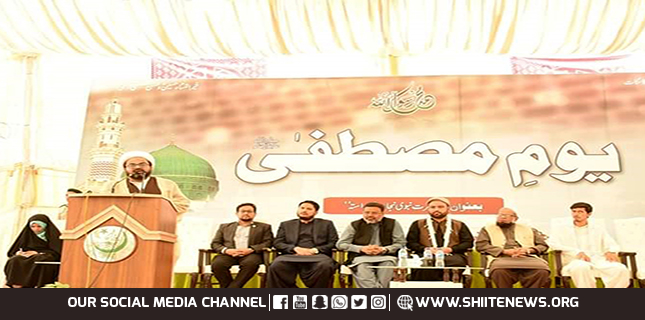 Youm e Mustafa held at Karachi University with religious fervor.
The event held under the aegis of Office of KU's adviser on students' affairs and Imamia Students Organisation.
Youm e Mustafa held
Youm-e-Mustafa (PBUH) aims at highlighting the sacred life Prophet Hazrat Mohammad (PBUH) as role model for all human beings.
Vice Chancellor Karachi University DR Khalid Iraqi, ISO Pakistan president Arif Hussain Aljani, Islamic scholar Allama Raza Daaudani and Jamaat-e-Islami leader Dr Merajul Huda spoke on the occasion.
Mir Sajjad Mir, Nasir Aziz and others also recited naat at the event.
Professor Dr Zahid Ali Zahidi, Dr Anwar Zaidi, Dr Jameel Kazmi, Dr Tanveer Abbas, Dr Javed Hashmi, Prof Samar Sultana also attended the event.
Meanwhile, adviser Students Affairs at KU, Professor Asim Hussain also thanked ISO for the programme.