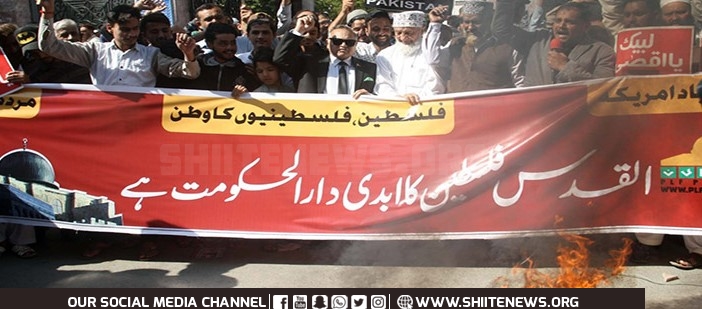 Protest rallies held agaist US Middle East Peace Plan across Pakistan today on Friday.
Demonstrations and rallies held under the aegis of Palestine Foundation of Pakistan after Friday prayers.
Meanwhile, Friday prayers leaders also spoke against the proposed ME plan.
Protest rallies held agaist US
Protesters were carrying banners and placards inscribed with slogans rejecting Israel.
While supporting al-Quds (now-occupied) Jerusalem as capital city of independent sovereign state of Palestine, they raised slogans against United States' ME plan.
Palestine Foundation Pakistan's leaders spoke at the main demo outside New Memon Masjid Boulton Market on MA Jinnah Road.
They included ex-Member of National Assembly Mohammad Hussain Mehanti of Jamaat-e-Islami and former member of Sindh provincial legislature Mehfooz Yar Khan and PF's secretary general Sabir Abu Maryam.
They warned the Pakistan government that US President Donald Trump's plan amounts to set precedent for India to usurp Kashmir.
Therefore, they demanded the government to take a clear position against the so-called deal of the century.
Besides, Palestine Foundation's leaders also referred to the worldwide consensus on al Quds Jerusalem as capital of Palestine. They further said Palestine leadership unanimously rejected Trump's plan.
They termed the Trump's ME plan a flagrant violation of international law, let alone inalienable rights of Palestinians.