Yemen
UN-brokered talks between Houthis, Yemen parties break down: Official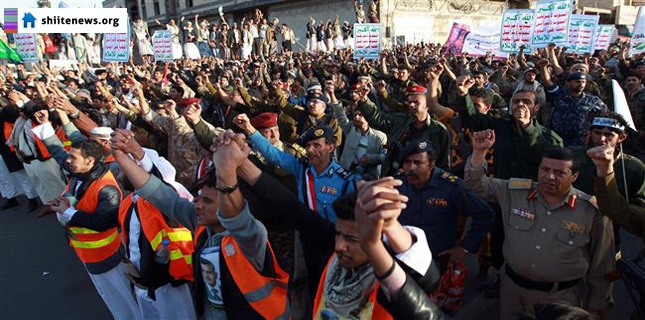 UN-brokered negotiations between Yemen's Ansarullah revolutionaries of the Shia Houthi movement and political parties have failed, says an official involved in the talks.
According to an unnamed official with one of the parties present at the talks on Sunday, Islah party along with Socialist and Nasserite parties pulled out of the negotiations.
The three parties have called for protests against the Houthi fighters amid a deepening political deadlock in the country.
Political uncertainty looms large over Yemen days after President Abd Rabbu Mansour Hadi and the cabinet of Prime Minister Khaled Bahah resigned over pressure from Ansarullah revolutionaries. The parliament, however, rejected Hadi's resignation pending an emergency session.
Hadi is currently at his private residence that is surrounded by Ansarullah fighters who have set up checkpoints across the capital and patrol the streets.
Earlier on Sunday, the parliament again delayed an extraordinary session that aimed to discuss the president's resignation. Yemen's state news agency Saba said that the emergency meeting was postponed to "another date which will be decided later to make sure all members are informed to attend." Lawmakers were initially set to meet on Friday to discuss the resignation request. However, presidential adviser Sultan al-Atwani said the meeting had been postponed.
The Houthis are against a six-region federation plan by the government, saying it would divide the Arabian Peninsula country into rich and poor areas. They have long complained of being marginalized by the central government.
Yemen has been the scene of tensions after the Shia fighters arrested Ahmed Awad bin Mubarak, Hadi's chief of staff, at a checkpoint in the western district of Hada on January 17.The Ansarullah fighters accuse him of establishing close ties with the US and also of pushing for partitioning the country.
In September 2014, Ansarullah fighters gained control of the capital, Sana'a, following a four-day battle with army forces loyal to General Ali Mohsen al-Ahmar, the half-brother of the country's former dictator, Ali Abdullah Saleh.
In the same month, Ansarullah fighters and the Yemeni government inked a UN-backed ceasefire deal that called for the withdrawal of the revolutionaries from the capital once a neutral prime minister was picked. The deal has failed to deliver any practical results so far.
The Ansarullah revolutionaries say the Yemeni government has been incapable of properly running the affairs of the country and providing security.