World
Qatari Princess Caught Having Sex with 7 Men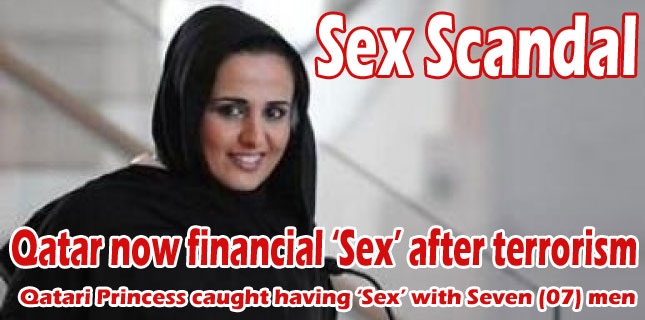 It is a established fact that Qatar has been aiding terror in Syria and Yemen financing Al-Qaeda and ISIS in the region. But recent development has revealed that Qatar has patronage to not only terror but sex as well.
The British newspaper "Financial Times" revealed a heavy-caliber scandal when the British security services had broken into a London apartment only to find the Qatari princess having collective sex with seven men.
According to the newspaper, the British police was surprised when tracing a suspect into an apartment which is owned by the Qatari princess to find her having sex with three Europeans men inside the room, while four others, including the suspect waiting in line in the hallway.
The suspect during investigation admitted that the Qatari princess, called Sheikha Salwa, a daughter of former Prime Minister Hamad bin Jassim bin Jabor Al Thani, had agreed with him through an intermediary (pimp) to bring in men of special physical qualities who have experience in specific ways of collective sex in exchange of a lot of money.
The Qatari princess asked him this time to bring six men at once, and asked him to stay in the apartment hall until they leave for fear of violence by anyone of them, as had happened in previous visits.
The princess in answering security personnel questions said it is not prostitution for money, but she is paying the money to the men, and as far as she knows this is not in violation of the British law. But police told her it was against the law to use a man with a criminal record or men for prostitution. Unlike other laws, in British law men prostitution outside the law is punishable and that she sought sexual services outside the British law.
An office insider told the Financial Times, the story of the incident and that the case will not devolve into something as the princess holds a diplomatic passport. The British police notified the Qatari embassy of the subject, but the latter did not care about anything other than preventing publication of the scandal.
"Financial Times seeking further details on the implications of the case, although the Qatari embassy tried to prevent the scandal from seeing the light of day by offering £500 million to the paper, but the newspaper rejected the offer, and has published the facts of the case along with photos withdrawn from the princess' "iPad".