World
1000s rally in Turkey, Europe in support of Kobani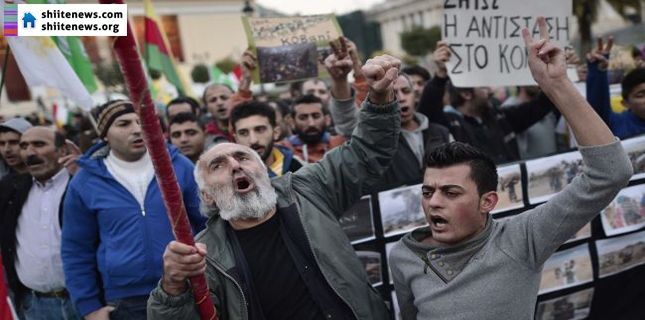 Thousands have rallied across Turkey and major European cities to express solidarity with the Syrian Kurdish border town of Kobani, which has been under ISIL terror attacks in recent weeks, Press TV reports.
In an international show of support for Kobani, the demonstrators took to the streets in Turkey's capital, Ankara, and the cities of Istanbul and Izmir as well as European cities, including Rome, Brussels, Hamburg, London, Munich and Paris, on Saturday.
The biggest march was held in Turkey's largest Kurdish-majority city of Diyarbakir, where at least 15,000 people took to the streets amid heavy police security.
"In just a small amount of time, the cruel ISIL army has created an unlawful state that should not be anyhow associated with Islam. ISIL operates in a neo-Nazi style. They must be eliminated," Italian journalist Claudia Romanini told Press TV.
The protesters censured the so-called anti-ISIL coalition, led by the US, for its failure to back Kobani in efforts to contain the terror group. They argue that the alliance has not only fallen short of fulfilling its obligations, but some of its member states supply arms and funds to the ISIL extremists.
"Many NATO countries provide ISIL with weapons. However, the flow of ISIL weapons had been aided particularly by Turkey. This is a proven fact. We want our land, we want to be free," said Rawan Mavlut from Lazio Region Kurdish Community.
Many Kurds in Turkey are furious at the government's lack of support for the Kurds fighting for Kobani against the Takfiri terrorists, who have carried out heinous atrocities in the lands where they hold sway.
Kobani and its surroundings have been under attack since mid-September, with the ISIL militants capturing dozens of nearby Kurdish villages and killing hundreds of people. More than 200,000 people have also fled across the border into Turkey.