Palestine
Palestinians mark anniversary of deadly Israeli raid in Duma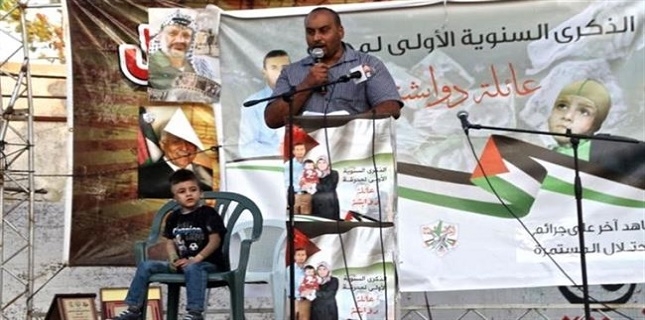 On July 31, 2015, Israeli settlers killed three members of a Palestinian family, including a baby, in the northern West Bank. One year on, Hundreds of Palestinians have converged on the village of Duma, southeast of Nablus, to mark the anniversary of the firebombing attack on Dawabsha family's house.
They urged unity among Palestinians and waved national Palestinian flags as well as those of Palestinian political factions, including Fatah and the Islamic Resistance Movement Hamas.
Duma residents, Palestinian officials, and a former Arab member of the Israeli parliament were in attendance.
Addressing Israelis, Nasr Dawabsha, a relative of the victims of the arson attack, said, "You all are delusional. You thought that your crime would make us leave our land, but we have disappointed you. We will steadfastly remain in our land."
Ghassan Daghlas, a Palestinian Authority official in charge of monitoring Israel's settlement expansion activities, also called on the international community to force Israel into bringing the perpetrators of the attack to justice.
A number of Palestinian officials underlined the need for the Palestinian nation to unite.
"What we must do now to stop this series of crimes is to achieve Palestinian national unity. I call on all Palestinians to unite now," Muhammad al-Baraka, a former member of the Israeli Knesset, said.
Akram Rajoub, Nablus' district governor, also said, "Our people must unite and our political forces must undertake the responsibility and come together… The time has come for us to unite."
Mahmoud al-Aloul, a member of the Fatah Central Committee, said he had no faith in the Israeli legal system.
"The Israeli regime should stop these crimes and prosecute the perpetrators; but instead it is hiding the evidence and trying to find excuses to save the people responsible for the crime," Aloul said.
In July last year, a large fire broke out at the Dawabsha family house after extremist Israeli settlers threw firebombs and Molotov cocktails into the house in Duma. An 18-month-old baby boy, identified as Ali, was burned to death in the fire.
Ali's 32-year-old father, Sa'ad Dawabsha, also died of burns a week after the assault. His mother, Riham, was pronounced dead after spending five weeks on life support as a result of burns on September 5, 2015.
The sole survivor of the arson attack, Ahmad, spent several days in intensive care and underwent multiple surgeries, skin grafts and other treatments.