Palestine
Anti-Netanyahu demonstrations turn violent across Israel amid fears of ex-PM's possible return to power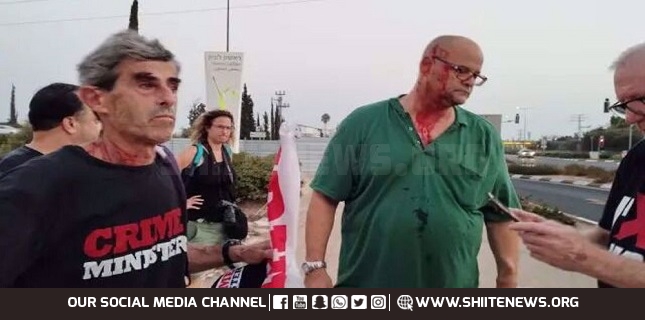 Widespread demonstrations against Benjamin Netanyahu have turned violent across the Israeli-occupied territories after supporters of the scandal-ridden former Israeli prime minister attacked protesters.
Israeli media said the protests, led by 100 groups throughout bridges and intersections from the north to the south of the occupied territories, turned into a scene of clashes and physical altercations on Saturday afternoon, with several protesters injured by rival groups supporting Netanyahu.
According to the Jerusalem Post daily newspaper, in the central city of Hod Hasharon, "a group of ATV riders stopped near one of the demonstrations on the Ramat Hadar Bridge and began hitting protesters with helmets and fists, knocking some of the protesters to the floor."
The groups organizing the anti-Netanyahu demonstrations condemned the violence, saying, "When Netanyahu's poison machine incites and normalizes [extremism], there is no wonder violence is rampant. Violence will not deter us. We are returning en masse to the bridges and intersections to make sure he does not return."
One of the organizing groups said in a statement that a cabinet "headed by Netanyahu will be a disaster for Israel," adding that "we defeated him in the past, we will defeat him again."
The Israeli police said they had opened an investigation into the violent encounters.
The anti-Netanyahu demonstrations came as the Israeli regime has held five elections over the past four years while no coalition has been able to form a cabinet due to political instability.
The main competition in the parliamentary elections in November will be between the left-wing coalition led by the interim prime minister, Yair Lapid, and the right-wing leader Netanyahu.
Observers say the fragility of the occupying regime's coalition cabinet will continue even after the November elections.
Netanyahu's rivals, on the left, right, and center, have vowed to prevent his return to power.
Back in 2019, the former prime minister was charged with bribery, fraud and breach in three corruption cases, dubbed Cases 4000, 2000 and 1000.
Netanyahu and his wife, Sara, were also suspected of wrongfully accepting $264,000 worth of jewelry, cigars, champagne and other gifts from wealthy businessmen for political favors in one case.
The ex-Israeli prime minister was also accused of interfering with regulatory bodies and lawmakers on behalf of the biggest selling newspaper in the occupied territories, Yedioth Ahronoth, in exchange for positive news coverage and favorable stories about him.