Palestine
Islamic Jihad will not leave its members in Zionist prisons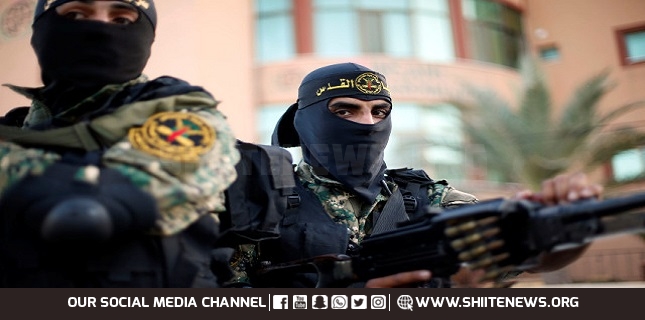 The secretary general of the Islamic Jihad resistance movement says the group's threats to go to war with Israel in support of its prisoners forced the Tel Aviv regime to end its new suppressive policies toward Palestinian detainees and make concessions.
"Some 250 of our inmates went on hunger strike a few days ago in protest at restrictions imposed on them. Our message to the Zionists was very clear: We will respond with force if you do not stop the criminal measures," Ziad al-Nakhala said during an interview with IRNA news agency in Tehran.
Following our threats, Nakhala said, Israeli officials agreed to make concessions in return for the non-disclosure of the matter, as it could have triggered backlash inside the occupied territories.
The Islamic Jihad chief said 440 Islamic Jihad prisoners are currently being held in Israeli jails, stressing, "Our threat to go to war on behalf of our prisoners forced the Zionists to retreat and give concessions."
The al-Quds Brigades, the Islamic Jihad's military wing, said in a brief statement on October 14 that it would go to war if Israel did not end the punitive measures imposed on the movement's prisoners after the heroic escape of six Palestinians from a maximum-security Israeli detention center last month.
"We announce a state of general alert among the ranks of our fighters. We are completely prepared and at the ready," the statement read.
Earlier this month, Nakhala had said that the Islamic Jihad was prepared to engage Israel on behalf of its prisoners.
"The Islamic Jihad will not leave its members in Zionist prisons to be victims at the hands of the enemy. Accordingly, we will stand with them and support them with everything we have, even if this means we must go to war for their sake," he said on October 13.
Islamic Jihad official Tareq Ezaddin said on Friday that "the prisoners decided to suspend the hunger strike after they scored a victory against the administration of the occupation prison authorities."
"The victory is a turning point in the confrontation with the [Israeli] jailers," Ezaddin said.