Palestine
Hamas calls for united 'resistance' against Israel's plans to annex of West Bank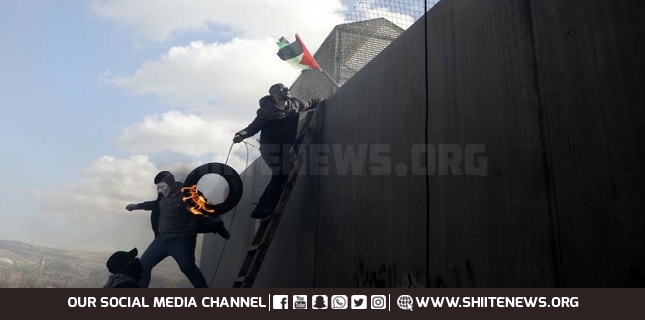 The Islamic Resistance Movement, Hamas, has called for unity among all Palestinian political factions and "resistance" against the Israeli regime's contentious plans to annex large parts of the occupied West Bank and apply its own rule to them.
"We call for the annexation project to be confronted with resistance in all forms," senior Hamas official Salah al-Bardawil told a press conference in Gaza City on Monday.
"We call on our people to transform this hardship into an opportunity to get the Palestinian project back on track," Bardawil added, demanding a "union of the political class."
"It is the duty of each free Palestinian citizen to rise up against this flagrant aggression on our land," he said.
Bardawil also called for a meeting between officials from Hamas and the Palestine Liberation Organization (PLO), which includes various other Palestinian groups.
On June 9, Head of Hamas political bureau Ismail Haniyeh called for emergency Arab and Muslim summits to confront the Israeli regime's plans to annex Palestinian land in the West Bank.
"It is necessary to back the Palestinian position, which rejects settlement projects in the West Bank and the Judaization of al-Quds (Jerusalem)," Haniyeh said in a message addressed to the leaders of more than 40 Arab and Muslim countries.
He then described the Israeli annexation plans as a new act of aggression in the dismal record of the regime's crimes, warning the plans posed a real danger not only to the Palestinian people but also the entire Arab and Muslim world.
Moreover, Palestinian President Mahmoud Abbas has called for the forthcoming United Nations Security Council meeting to be held at a higher level, with foreign ministers in attendance instead of representatives, when it convenes later this month to discuss the controversial Israeli annexation plans.
The secretary general of the PLO Executive Committee, Saeb Erekat, told Arabic-language Voice of Palestine radio station on Saturday that Abbas had instructed Palestine's ambassador at the UN, Riyad Mansour, to push for an upgraded meeting on June 24, and propose the formation of an international coalition against Tel Aviv's looming annexation attempt to the UN General Assembly.
Israeli prime minister Benjamin Netanyahu, who was sworn into office for another term on May 17, has set July 1 for the start of cabinet discussions on extending "sovereignty" over settlements in the West Bank and the Jordan Valley.
In response to Israel's decision, Abbas declared the end of all agreements signed with Israel and the United States on May 19.