Palestine
Hamas condemned Arabs-Israel normalization ties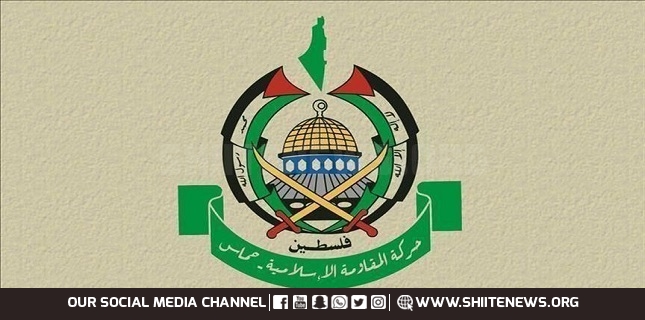 A spokesman for the Palestinian resistance movement Hamas has condemned attempts aimed at normalizing diplomatic relations between some Arab countries with the Israeli regime, describing such behavior as "treason."
In a press release on Sunday, Abdul-Latif al-Qanua said Israeli Prime Minister Benjamin Netanyahu's move to welcome Tel Aviv's warming relations with Arab countries was "a reflection of how deep these ties have gone, and the level some Arab regimes have sunk to."
He warned that the normalization of Arab states' ties with the Israeli regime would harm the Palestinian cause.
He stressed the importance of supporting the Palestinian people through prosecuting the Israeli war criminals at the International Criminal Court (ICC) instead of establishing new relations with "an illegal entity."
The UAE minister of foreign affairs and international cooperation on Saturday tweeted an article supporting an alliance between Arab countries and Israel. The posting received an immediate welcome from the Israeli prime minister.In the post on his official Twitter account, Sheikh Abdullah bin Zayed bin Sultan Al Nahyan tweeted a link to a story in The Spectator, a weekly British magazine, titled "Islam's reformation: an Arab-Israeli alliance is taking shape in the Middle East."
Netanyahu responded to the top Emirati diplomat, welcoming close relations between Israel and Arab countries in the region.
"I welcome the closer relations between Israel and many Arab states. The time has come for normalization and peace," he tweeted.
Meanwhile, Israeli authorities have said that the regime's officials are apparently injecting more momentum into their efforts to bring out in the open their clandestine relations with a number of Arab countries, particularly Persian Gulf littoral states.
According to Israeli officials, who have been quoted by AFP as saying, they are also hoping to reach out to Arab peoples through participation in the Expo 2020 Dubai, which the biggest and most luxurious city of the United Arab Emirates (UAE) is going to host for 173 days.
Israel has full diplomatic ties with only two Arab states, Egypt and Jordan, but latest reports suggest Tel Aviv has been working behind the scenes to establish formal contacts with other Arab countries such as the United Arab Emirates, Saudi Arabia and Bahrain.
In August, Israeli foreign minister Israel Katz said he was working toward "transparent normalization and signed agreements" with a number of Persian Gulf littoral states as the countries do not shy away from disclosing their clandestine relations with Tel Aviv following years of secretive contacts.
Netanyahu in late November last year visited Oman, where he met Sultan Sayyid Qaboos at the Bait al-Barakah Royal Palace in the coastal city of Seeb near the capital Muscat.
In October 2018, Israel's culture and sports minister Miri Regev traveled to the UAE for the Abu Dhabi Grand Slam judo tournament, where the regime's anthem was played for the first time.
During the visit, she also toured Abu Dhabi's Sheikh Zayed Grand Mosque accompanied by Emirati officials.
-Hamas condemned