Pakistan
Nexus between deputy chairman Senate and ASWJ terrorist Ramzan Mengal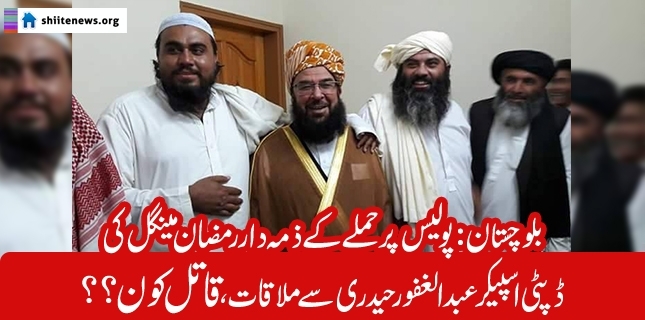 Deputy Chairman of the Senate Abdul Ghafoor Haideri has been pictured with notorious terrorist Ramzan Mengal of proscribed terror outfit ASWJ, mother wing of banned Lashkar-e-Jhangvi. The picture shows pleasant mood of the Haideri who is a Deobandi cleric also and hails from JUI-F.
It is relevant to add here that Deobandi terrorist outfit LeJ/ASWJ had been accused of attacks on JUIF leaders Fazalur Rehman and Abdul Ghafoor Haideri himself but these clerics seemed to have no problem with the banned terrorist outfit or they are sacred of the proscribed ASWJ so they don't want to disclose truth about the ASWJ ringleaders.
Surprisingly, the intelligence agencies and security officials have failed to notice this nexus or this environment of fear. Nor they take any sort of action against the proscribed ASWJ ringleaders such as Ramzan Mengal.
But, simultaneously, they take innocent Shia Muslims into illegal custody without any charge that many says the worst example of state-sponsored discrimination although Shia Muslims are loyal sons of Pakistan and always remain peaceful.