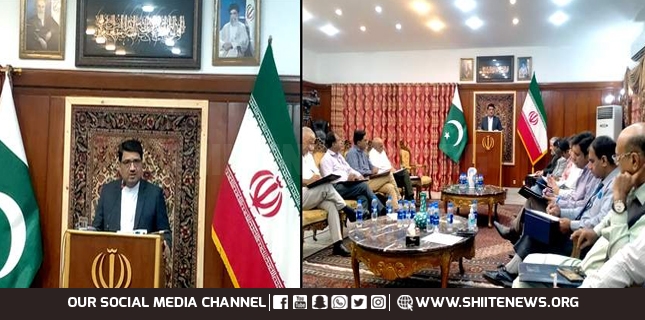 Shiite News: Consul General of Islamic Republic of Iran, in Karachi, Hasan Noorian has said that his country is ready to supply natural gas to neighboring Islamic Pakistan to meet Pakistan's energy needs.
Iran has laid a 950-kilometer long pipeline in its country to the border of Pakistan, which was signed in 2012 and under the agreement to supply 60 million cubic feet of natural gas to Pakistan for 25 years.
Unfortunately, the agreement could not be implemented, he expressed these views while addressing a press briefing on Pakistan-Iran relations at the Iranian Consulate.
Iranian Consul General Hassan Noorian said that in 1990, an agreement to lay a 2700 km gas pipeline was signed between Iran, Pakistan and India (IPI), under which India will also be supplied with 90 million cubic feet of gas. It was to be done, but India withdrew from this agreement, so it could not be implemented.
Consul General Hasan Noorian said that soon an Iranian 5-member delegation will visit Islamabad, which will include people from different fields and two memorandums of understanding will be signed on the occasion of the delegation's visit.
He said that Iran's single country exhibition will be held at Karachi Expo Center on January 14. He said that Iran is the third largest gas producing country in the world.
There has been 580 million dollars in trade between Iran and Pakistan in the last 6 months. The formation of a committee on various matters between the two countries is also being considered.
He said that conspiracies are being made by the western countries including America to divide Iran into different parts and riots were made in Iran by making the death of a girl named Mahsa Amini an issue in Iran in the past days.
While the Iranian President contacted the girl's parents and assured them of a fair and transparent investigation, a team of 19 doctors conducted a post-mortem on the dead girl's body and prepared a death report and this team also included private doctors.
Hassan Nooryan said that the wrong propaganda is done by the US that women in Iran are not getting their rights, while the situation is the opposite, women in Iran have equal rights, 25 percent of women in jobs.
As many as 1100 judges are women, 700 heads of institutions are women, 99.9% women are getting education.
He said that the number of female suicides in our country is 1.3 out of 100,000 women, while in America 6% of women commit suicide in 100,000, more than 1500 articles were written in America to highlight Mahsa Amini's case.
The number of columns written in Great Britain is more than one thousand and more than 900 columns were written in Germany and about 500 columns were printed in Italy.
He said that the Pentagon wants to recognize Israel under the guise of Mahsa Amini, but we will not allow this to happen. He said that our country has been facing sanctions for 40 years, while for 8 years we were pushed into war, in this war Saddam Hussain martyred our people by using chemical weapons, to spread unrest in Iran through Daesh. A large number of weapons were delivered, but the government of Iran foiled this plot with the support of the people.