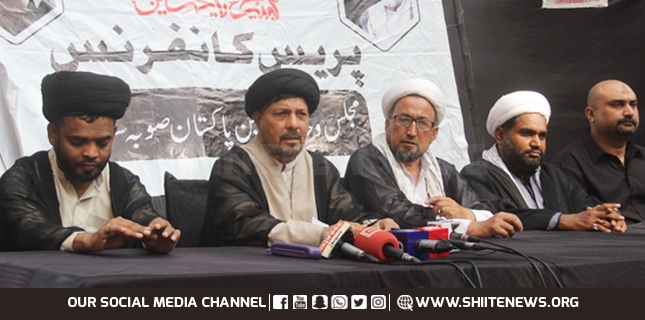 Shiite News: The Secretary-General of MWM Sindh, Allama Baqir Abaas Zaidi condemned the government for registering cases against the mourners who attended the Arbaeen procession in a press conference along with other leaders. He said that the incidents of stopping participants of the procession and touring them on different spots as well as forcefully removal of Sabeels from highways in Karachi were highly deplorable. Similarly, the number of cases were registered Tando Allah Yar, Tando Muhammad  Khan, Badin, Dadu, Jamshoro, and  Shikarpur under the nose of PPP's so-called democratic government in Sindh which was worse than a dictatorship. Such measures were being done just to please the followers of Yazid.
He inquired that what the Sindh Government wanted to prove by registering criminal cases against peaceful mourners.
He made it clear that we are lovers of Imam Hussain (AS) and will not accept any pressure regarding Azadari because we are well versed to answer every Yazid of any time in befitted manners if Sindh Police will not change its Anti-Shia behavior then we will be justified to express our reaction in form of protests or legal action which is our constitutional right.
He also denounced the double standard traveling policy of NCOC by which only the Zaireen are being detained for 24 hours in quarantine despite having health clearance while travelers of other countries. He warned Federal and Provincial rulers that two laws in the same country would not be accepted.
This press conference was attended by Allama Sadiq Jaffery, Allama Raza Jaffery, Allama Ali Anwer, Allama Mubbashir Hassan, and others.