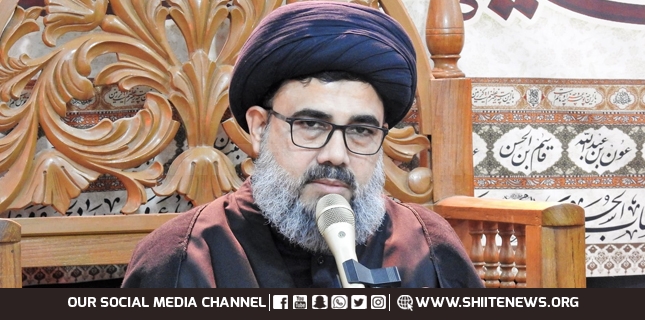 Shiite News: Central Deputy Secretary-General of MWM Allama Ahmed Iqbal Rizvi said that Fourteen Hundred years ago, when Banu Ummayah and Banu Abbas were ruling, they left no effort to subdue Azadari-e-Imam Hussain (AS) but we kept continue said duty without any care and fear then how we would be frightened of Punjab government which had no comparison with cruel Malookiate of ancient Islamic History.
He further said that our leaders were brave and bold, and ready to face every challenge at any time for Azadari. Our stand is crystal clear in said regard and known to all that our motto was loyalty with the country and mourning of Imam Hussain (AS). We would never allow anyone to spread sectarian extremism in Pakistan.
He also condemned the attempt of making curriculum sectarian and vowed to unveil this high-level conspiracy.
He said that the omission of lessons about Hazrat Fatima Salamullah Alaiha and Imam Hussain (AS) as well as the addition of fake Hadith was highly deplorable and we would challenge all these changes in the syllabus because we were willing to keep Pakistan according to principles of Quaid-e-Azam and Allama Iqbal.
He expressed such views during a 2-day meeting Punjab Advisory Committee of MWM which was attended by secretaries-general of all districts and other office-bearers.