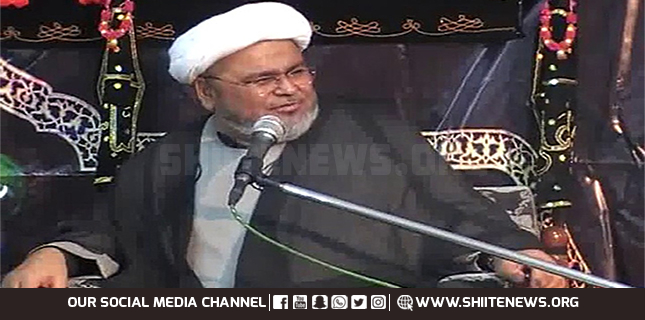 SUC condemns discriminatory biased policy of Sindh and Punjab govts (governments) against Shia Muslims and their leaders.
Allama Shaikh Shabbir Hassan Maisami and Allama Moosa Raza Jaskani have slammed the PPP and PTI governments in Sindh and Punjab, respectively.
SUC condemns discriminatory biased policy of Sindh and Punjab govts
Aforesaid leaders of Shia Ulema Council lamented registration of false case against Shia mourners for their participation in Chehlum/Arbaeen azadari.
Moreover, they also rejected putting Shia Islamic parties' leaders in the fourth schedule of anti-terrorism act.
Meanwhile, Allama Maisami said that Shia Ulema Council Sindh chapter's long march protest will begin on February 14.
In a separate statement, Allama Moosa Raza Jaskani also supported the protest.
Earlier, Allama Syed Sajid Naqvi had declared it right of Shia Muslims to register protest against anti-constitution anti-Shia cases.
Moreover, he said that SUC Sindh chapter rightfully would launch a long march on February 14.
He further said that Sindh government should immediately order nullifying of these cases.
Shia Muslims had walked to join the annual azadari processions on Arbaeen/Chehlum of Imam Hussain-led Martyrs of Karbala.
Meanwhile, Shia Ulma Council announces long march from Sukkur to CM House Karachi in February 2021.
The SUC Sindh chapter president Allama Syed Nazir Abbas Taqvi made this announcement in Karachi.
He underscored the long march a protest against biased and discriminatory FIRs against Shia mourners.
He further said protesters will begin long march from Sukkur on February 14.
They will reach Sindh Chief Minister's (CM) House in Karachi.
Meanwhile., Shia Muslims and their supporters say that they commemorate Imam Hussain-led Martyrs of Karbala through annual events.